Are you considering Agritourism as part of your agricultural operation? Take the time to do a little research and information gathering so you can start off on the right foot.  The agritourism portal contains:
Two educational videos from experts on the topic
Access to relevant resources
This portal will provide you with a thorough overview of agritourism,  overview and insight of business development and operations, marketing, where to look for help and additional resources.  This portal is appropriate for producers and agribusinesses.  Educators of agriculture may also find this portal valuable.
Educational Videos
Agritourism is on the rise and can be a great way to diversify your ag operation. But what do you need to consider? What are the requirements in order to operate? Get the answer to these and many other questions with our educational videos on the topic.
Features expert speakers: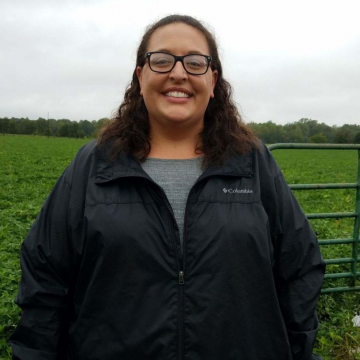 Extension Agent, Virginia Cooperative Extension
Livvy Preisser
Expand Bio
Livvy grew up in Lancaster, Virginia on the Northern Neck. She grew up on her families row crop farm and had a small poultry flock. She had a passion for agriculture from a young age,  and decided to pursue that as a career. She attended Virginia Tech where she received her Associates Degree from The Agriculture Technology Program and a Bachelors Degree in Agriculture Economics-Agribusiness. She started working for Virginia Cooperative Extension in 2015 and later received her Master's Degree in Agriculture Education with a project on Agritourism Safety in Virginia. She has worked for VCE for the past six years and helps lead the state agritourism program team. She is located in the Isle of Wight Extension Office.
Tourism and Marketing Director, Giles County, Virginia
Cora Gnegy
Expand Bio
Cora Gnegy is the Tourism Marketing Director for Giles County, VA. She has a passion for outdoor adventures and exploring new places. Having obtained a B.B.A. of Management from James Madison University, where she was a third generation student, Cora began her hospitality and tourism work at the historic house museum, Belle Grove Plantation in Middletown, VA. Owning and operating Agritourism Consulting and Event Planning (ATCEP) ventures since 2008, Cora has matched clients with creative business and event solutions in the agricultural and natural resources industries. Cora also received a M.S. in Agricultural and Life Sciences from Virginia Polytechnic and State University while working with the Cooperative Extension Service. In her current role she is tasked with developing marketing strategies and partnerships to drive visitor traffic including cultivating cooperative advertising and public relation opportunities. She also works in destination marketing, agritourism & heritage marketing, event development & implementation, and economic and community development.
Presentation Materials

Further Reading

Relevant Resources

Local Tourism Offices
Small Business Development Centers
Continue your learning journey...
Suggested portals based on your interest: 
Writing a Business Plan
Basics of Agricultural Advocacy
 Questions?  A Knowledge Center team member is ready to assist you!
Important Notice and Disclaimer
These materials are provided for educational and informational purposes only and do not constitute legal advice, financial advice, tax advice, or investment advice on any matter. These materials may not be current and up-to-date. You should not act or refrain from acting based on these materials or the information they contain without seeking legal advice from an attorney licensed in your jurisdiction or other appropriate professional. Farm Credit of the Virginias, ACA expressly disclaims any liability for all acts and omissions taken or made in reliance on these materials or any information contained in these materials.