One of the most, if not the most important thing for any agriculture producer is a business plan.  Business plans are roadmaps for success;  They define the business, it's mission and goals.  Having a written business plan may help you to secure funding, grants or business partners.  
Business planning can seem like a huge undertaking.  But it doesn't have to be.  The Knowledge Center has compiled valuable resources to help navigate you through the process.  The Writing a Business Plan portal contains:
An educational video offering explanations to the sections of a full business plan
A One-Page Business plan for those needing to take a step back
SWOT analysis worksheet
Additional resources
This portal will provide you with everything you need to develop a full written business plan, or a completed one-page business plan.  This portal is appropriate for producers and agribusinesses.  Educators of agriculture may also find this portal valuable.
Educational Video
We understand that business planning can seem overwhelming.  That's why the Knowledge Center team combined forces to create a video that will walk you through each section of a business plan, step-by-step.  Looking at the requirements of an entire business plan can seem daunting, but when broken down into manageable sections, it becomes doable!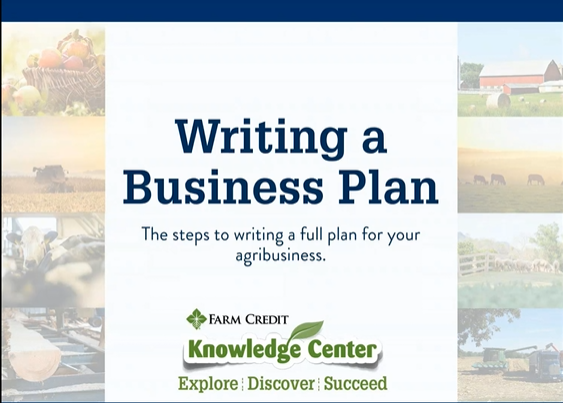 Business Plan Templates

We recommend AgPlan for those ready to begin writing their business plan.  AgPlan offers an online template that can be downloaded or printed and comes with additional resources and sample plans.

Need guidance and extra support along the way?  Consider signing up for a Knowledge Center business planning course.  Learn more about our courses.

Need to take a step back?  Sometimes taking a few steps back can better prepare you for a full business plan.  Our One-Page Business plan template and accompanying instruction booklet is also a great place to start!

One-Page Business Plan Outline - PDF

One-Page Business Plan Instruction Booklet (Downloadable)

 

Printable Resources

Further Reading

Books on the topic:

The E Myth Revisited: Why Most Small Businesses Don't Work and What to Do About It by Michael E. Gerber
Profit First: Transform Your Business from a Cash-Eating Monster to a Money-Making Machine by Mike Michalowicz
The Farmer's Office:  Tools, Tips and Templates to Successfully Manage a Growing Farm Business by Julia Shanks

Blog Articles:

Click on image to access article

Additional Resources

Online Resources:

Podcasts:

Business Made Simple: Dennis Miller
AGI Coffee Talk
Continue your learning journey...
Questions?  A Knowledge Center team member is ready to assist you!
Important Notice and Disclaimer
These materials are provided for educational and informational purposes only and do not constitute legal advice, financial advice, tax advice, or investment advice on any matter. These materials may not be current and up-to-date. You should not act or refrain from acting based on these materials or the information they contain without seeking legal advice from an attorney licensed in your jurisdiction or other appropriate professional. Farm Credit of the Virginias, ACA expressly disclaims any liability for all acts and omissions taken or made in reliance on these materials or any information contained in these materials.