Ag Biz Planner - Now Offering Dual Start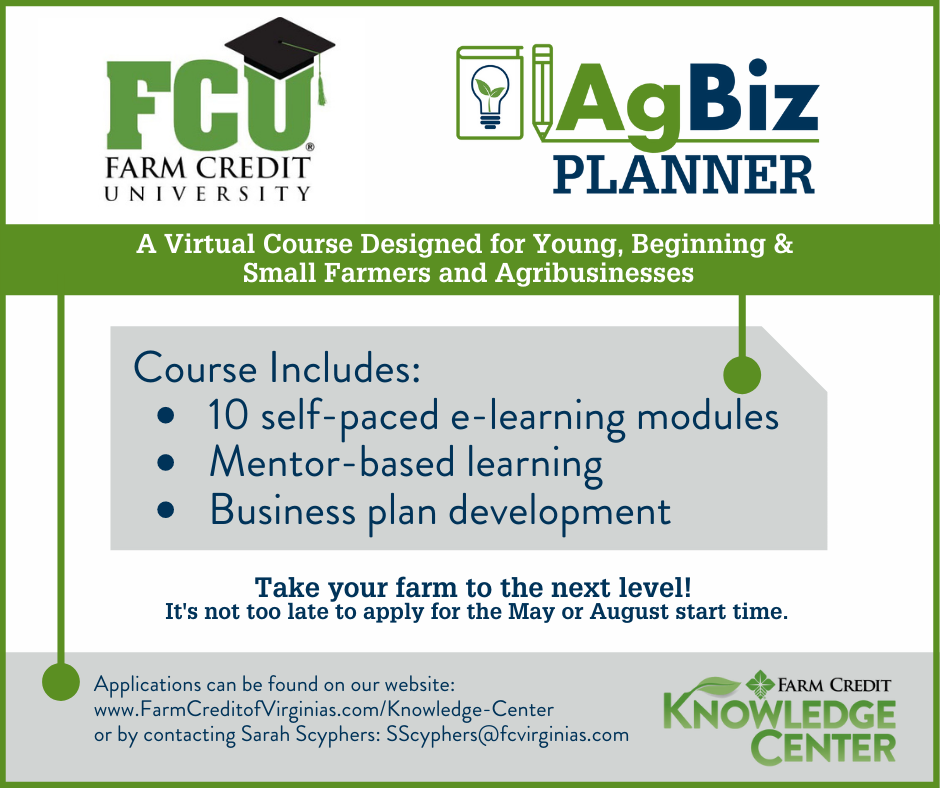 Now with Dual Start options! See below for more information.
Running your own business can be tough, learning to document financials, make goals and even an action plan is somewhat daunting. Having the confidence to write those goals and plans down can be hard to come by. Or do you have a hard time making yourself find the time to do it all and get it written down? These are all reasons, and more, we have seen people come to the Ag Biz Planner program!
Writing a business plan can seem like a huge hurdle in your business and life but we, at the Knowledge Center, can tell you it will be one of the most rewarding things you've done for yourself and your business.  Learning more about your business through research, goal setting and planning is so important when planning for the future.
The Ag Biz Planner course is a program that is run by Farm Credit University and facilitated by our team for any young, beginning or small farmer. This program is a ten-module program, taught by Dr. David Kohl, which takes the student/participant from constructing financial sheets, communications, and leadership to strategic business planning. 
Participants have gone through this program in order to get a better understanding of their operation, to compare the operations and financials between their enterprises, to look at expansion in their current operation, or to even begin a small business venture on their farm. The program is for anyone who wants to take a deeper dive into planning their business future.  Additional learning experiences may include, advocacy education around the industry and specific sectors or commodities, legislative visits both on a state and national level, and localized agricultural tours to various operations and/or farms.
NEW in 2022, we will be offering a DUAL START program. Participants can choose one of the following program timeframes:
Start in May and finish in November 2022
Start in August 2022 and finish in January 2023
Each program timeframe will consist of a kick-off meeting, a midpoint check-in in a central location, and an individual farm visit. All participants will attend the Final Conference in January held in Raleigh, NC.
The application period is currently closed for 2022.  Applications will be available again in Spring 2023. In the meantime, consider our AgBiz Basics course, which is available year-round.
If you would like more information on the class, contact your loan officer or Sarah Scyphers, SScyphers@FCVirginias.com, with the Knowledge Center.
And as always you can check out our flyer on our website, www.farmcreditofvirginias.com/knowledge-center/resources/ag-courses.           
Back to Blog