National Farriers Week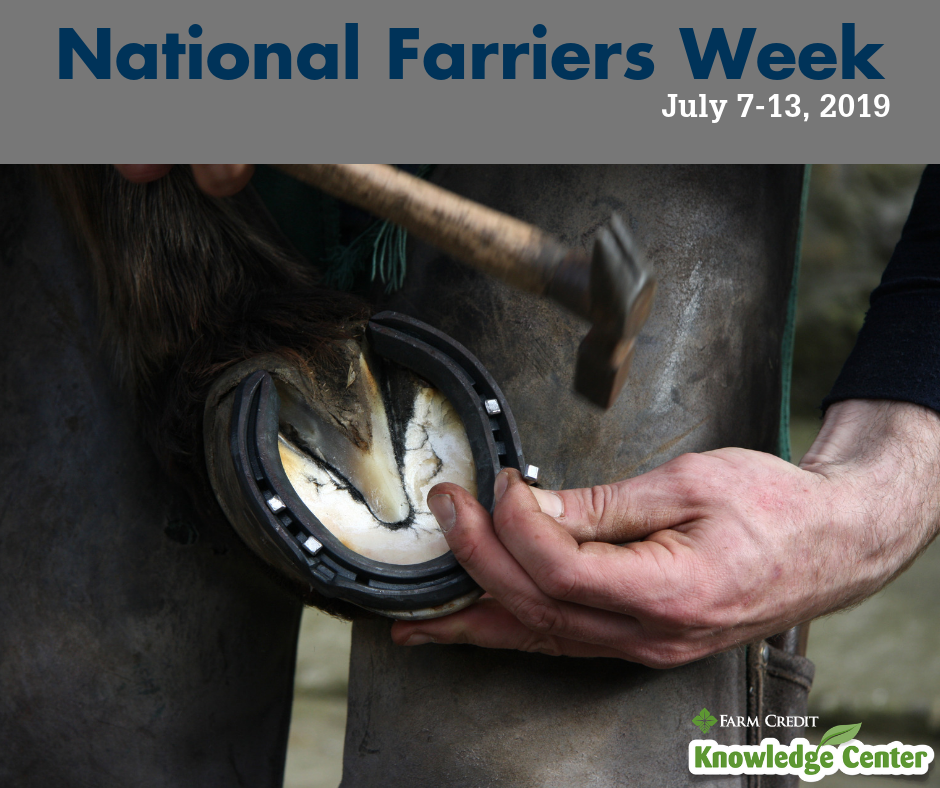 Education & Teaching Materials
Thank you to John Pemberton, a farrier in Middleburg, (and his wife Sarah for her help!) for this week's blog post.
It's 8 a.m. and John is headed to his truck to start his day.  John has been a farrier for the past 27 years. He specializes in performance horses and horses with special shoeing needs. Most of his clients are in the greater Middleburg/Upperville area but he also has a large client base that trailers to him from farther out. He starts the day the same way, by hopping into his truck and setting out to his first appointment of the day, hot tea in hand. I asked John how he ended up being a farrier, "Actually, hanging out in the barns as a teenager, my farrier told me that I should learn how to shoe horses, so I just ran with it. I started apprenticing with a few farriers and liked it, and then I went to shoeing school."
John has been involved in the horse industry in this area for most of his life. He started out in the show ring, graduated to the jumpers, has dabbled in barrel racing and other western sports, competed in a few endurance races and knows how to drive. These days you can find him playing on the polo field in the summer and fox hunting in the winter. "I always knew I wanted to work with horses as an adult, I just needed to figure out a way to make a career out of it. Being able to make a difference in the performance of a client's horse based off their shoeing has been very rewarding." He goes on to say that he enjoys working with and on every horse he has dealt with. "Sure, some are more difficult than others, not all of them behave or stand still, but in the end, if I can make a difference for them and their owners, that's what it is all about."
John particularly enjoys the more challenging cases. He has worked very closely with vets in the area researching different shoes and shoeing techniques and how they directly affect the horse's gaits. "We used a high speed equine treadmill for controlled environment testing. The treadmill allows you to analyze the horses movement while the horse is stationary, thus giving a longer sample window with the horse in the same position. It was really interesting to see the way different shoes and ways of trimming the foot effected the horse's movement. I really like working on problem cases and working with vets because when working as a team with a vet you can accomplish the most good for the horse. It provides you with more information because the vets see things that you don't see. It's a great collaborative effort and everyone can learn from the other. We all see it from a different viewpoint and from the info and tools provided by both you can get to a better solution in a shorter amount of time."
We've arrived at John's first appointment of the day. We pull into a beautiful barn yard and he backs up to the door. There is already a big pretty grey horse standing on the cross ties waiting for him. John opens the back of his trailer and pulls out his rolling box with all his tools in it. Rasps, nails, hoof testers, nail clinchers, and nippers just to name a few. The walls of his shoeing trailer are lined in shiny horse shoes, all different sizes. Some steel and some aluminum. He has drawers on the far end full of extras that some horses may need, pads, equilox, glue on shoes. It's very obvious that he likes to be prepared for whatever situation he may encounter when he is working on a horse. He's getting his farrier apron on while the owner gets the last bits of dirt of her horse's legs. This horse and owner have been a client of Johns for almost 10 years. She is a very nice lady who lets John know that there are gluten free muffins in her truck for him when he is done shoeing. John flashes his big smile and says thank you. He walks up to the grey and pets her neck, and picks up the first foot to get to work. 4 shoes later she is all done and heads back to her stall. John and the owner set up another appointment for a few weeks down the road and say goodbye.
We are all back in the truck so it gives me some time to chat some more with John. When I ask him why he likes being a farrier, his answer is so honest and genuine that I laugh a little. "Well, it's allowed me to work with horses my entire life and its allowed me to travel all over the country and meet a lot of very interesting people and horses. My family has had some very unique experiences and opportunities come out of my work and my clients." I ask John what he wishes people knew about being a farrier, "This is hard work and I take it very seriously. Every case is important to me. Every horse. I also think a lot of people forget how important shoeing is and how it effects the horse and their entire body and performance. Without proper shoeing, your horses cannot perform to their top ability. I think that the farrier gets lost in the grand scheme of things when people are thanking everyone for helping them and their horses get to whatever level of competition they are at. It's all from the ground up, if your horse has terrible feet or a less that awesome shoeing job, you've got no horse to work with."
After the day spent with John, being a farrier looks like a really difficult job, and not one that I would want to do. But his care and attention to detail with every client, and the way that he answers client's questions and cares about the horses is outstanding. It's very evident that he truly cares about each and every horse and rider combination we saw today.  In honor of National Farrier week, don't forget to thank your farrier for everything they have done for your horse.
Back to Blog