Jump in with Both Feet and Advocate for Agriculture
Knowledge Center Webinars
Session times vary
Virtual
Jump in with Both Feet and Advocate for Agriculture is a series of sessions where you can gain the tools and insight you need to be a successful advocate for agriculture.
Are you ready to take a deeper dive into advocacy? Tailored to a small group, you will be able to join in on conversation with other participants and speakers. The sessions will be interactive and productive. You will leave the series armed and ready to advocate locally and beyond!
As a participant, you will receive a free t-shirt, maximum of 2 per household! After you register, you will receive an email where you will be able to select the style and size of the shirt for yourself and 1 other participant in your household that plans to attend with you. Only participants planning to attend can receive a shirt.
This event is currently full.  To join the waitlist and to be notified for a possible Spring 2021 offering, use the registration link:
Session information:
Thursday, December 3rd from 8:00-9:30pm EDT
Speaker: Amanda Radke
Bridging the Gap Between Producers and Consumers
Today's consumer wants to know more about where their food comes from. Focusing on consumer trends and how society views food producers, Radke will deep-dive into what these voices are saying and how we can most effectively respond. What's more, she will discuss the regulatory pressures, the increasing demands from retailers and the myths.
Wednesday, December 9th from 9:00-10:00am EDT
Speaker: Kelly Roberts
Once Upon a Farm: How to Tell Your Story Effectively and Authentically
Everyone is continuously telling farmers how important it is to "share your story," but where do you start? In this webinar, you'll develop the who, what, when, where, and why of your personal story and learn how to use it to connect to people inside and outside of the agriculture community.
Thursday, December 10th from 9:00-10:00am EDT
Speakers: Jim Saunders and Katie Frazier
Building Legislative Relationships: Stay Engaged and Informed to Better Support Your Business
Join as Katie Frazier and Jim Saunders discuss his role in building legislative relationships within the agriculture industry and how those relationships have helped him have the hard conversations with legislators about policy and bills.
Tuesday, December 15th from 8:00-9:00pm EDT
Speakers: Coley Drinkwater and Brittany Jones
Navigating Crucial Conversations: How to have conversations with factual information and real life examples
With a large social media presence Coley and Brittany have learned first-hand how to navigate those crucial conversations with consumers. Listen and interact as they discuss their experiences, best practices and what they do now to ensure the best experience for everyone.
Questions? Please contact Sarah Scyphers at SScyphers@FCVirginias.com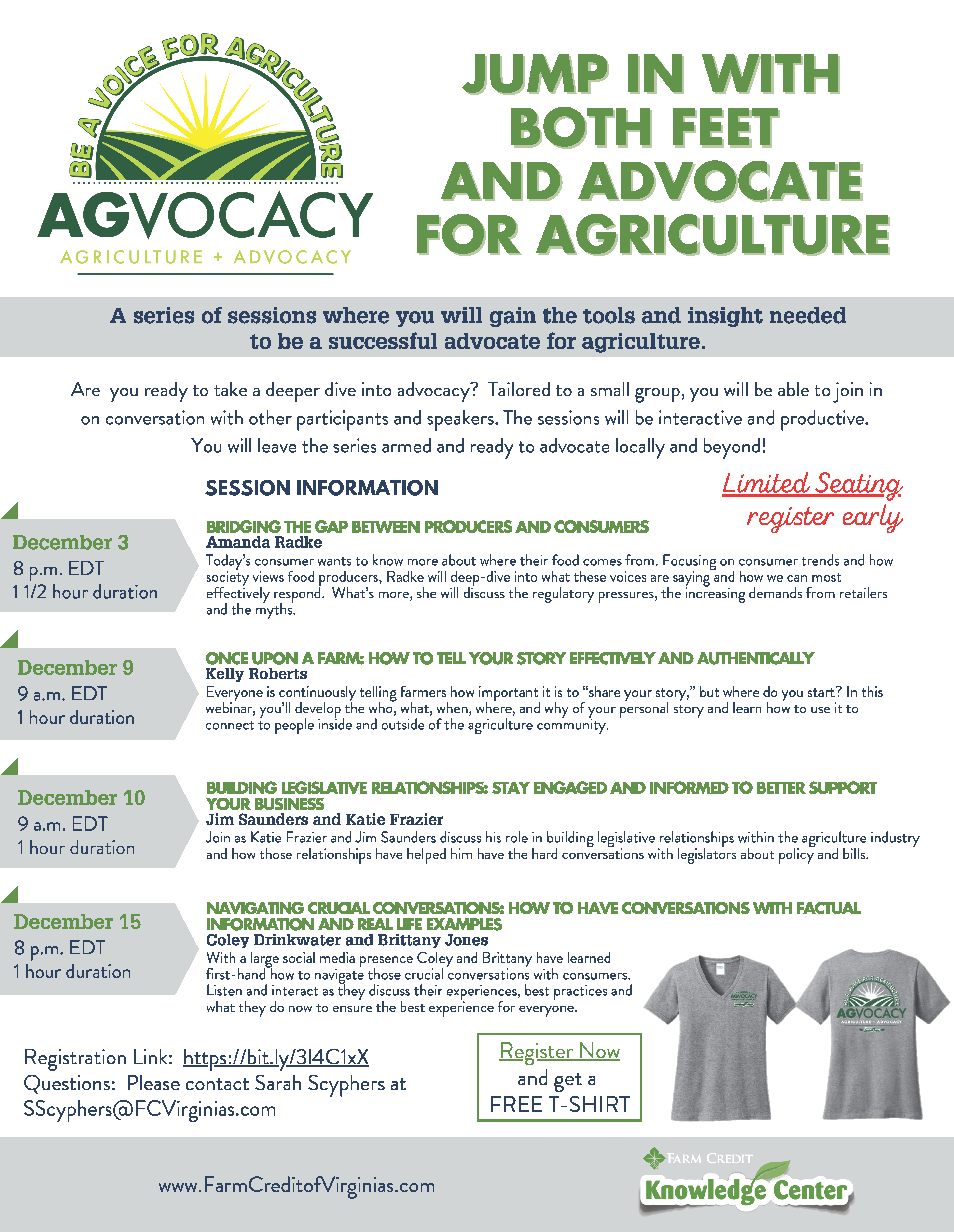 Back to Events