Fairmont Lavender Farm Featured in Farm Credit Video
Farm Credit of the Virginias, a lending cooperative serving Virginia, West Virginia, and western Maryland, released the latest episode of its' Ag & Culture video series featuring Stone House Lavender, a lavender farm and event venue located in Fairmont, WV. 
Stone House Lavender includes a working 20-acre lavender farm and farmhouse style event barn. Their operation offers an on-site farm store which carries hand-crafted lavender products crafted with pure plant extracts and essential oils. The newly established event barn provides a picturesque setting for weddings, as well as group events such as bridal/baby showers, family reunions, graduation parties and corporate events. Carrying on a long family tradition of cows grazing in the fields, the farm is ​also home to a small family of livestock in the meadows.
In the recent Ag & Culture episode, Mit Abbott, co-owner of Stone House Lavender, discusses how they got their start, the process of growing lavender, the importance of diversification, the partnerships that helped pave their way and more.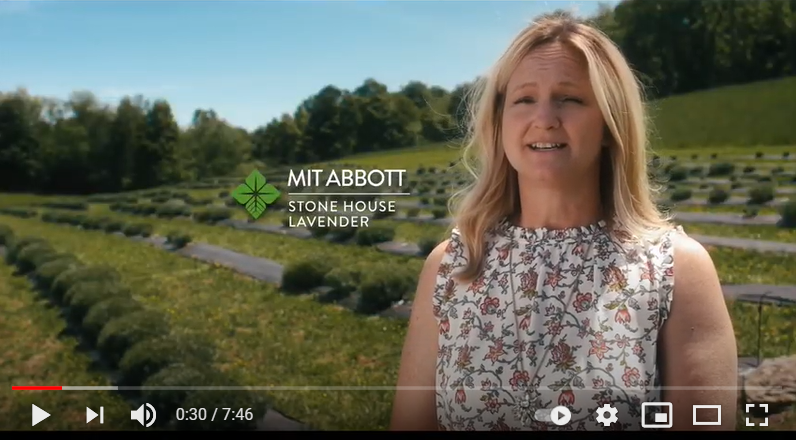 About the Ag & Culture Video Series
The Ag & Culture video series is produced in collaboration with Farm Credit of the Virginias and its' Knowledge Center to provide viewers a behind-the-scenes glimpse into the operation of a given farm or agribusiness. The videos are geared toward educating the general consumer who may not be exposed to the opportunities and challenges that lie within different sectors of the agriculture industry.
The families featured in the Ag & Culture series are not only upstanding members of their rural communities, fierce advocates for the industry and savvy business-owners, but also Farm Credit of the Virginias customers who leverage its cooperative structure and reliable financing to meet their operational goals. Many of the business-owners highlighted in the series are also participants and consumers of the Farm Credit Knowledge Center's programming.
To access the full library of Ag & Culture videos, visit the Farm Credit of the Virginias' website or YouTube channel.
About Farm Credit of the Virginias
Farm Credit of the Virginias provides over $1.8 billion dollars in financing to more than 11,000 farmers, agribusinesses and rural homeowners throughout Virginia, West Virginia and western Maryland. Farm Credit is a cooperative capitalized largely through investments made by farmers, ranchers and the rural homeowners and businesses that borrow from them. In fact, as part of a nationwide network they are the largest single provider of agricultural credit in the United States and have been for over 100 years. Farm Credit helps maintain and improve the quality of life in rural America and on the farm through its constant commitment to competitive lending, expert financial services and for facilitating and sharing knowledge and resources through the Farm Credit Knowledge Center. For more information, visit www.farmcreditofvirginias.com.
Back To News