Farm Credit of the Virginias Announces New Board Officers
Farm Credit of the Virginias (FCV), a lending cooperative that serves Virginia, West Virginia and western Maryland, announced that the board of directors elected new officers who will serve until December 31, 2023 (with the possibility of the terms extending to a second year).
Former vice chairperson, James "Jamie" Kinsey, was elected to serve as chairperson of the board. Kinsey is the owner and manager of Kinsey's Oak Front Farms, a purebred Angus beef operation. Kinsey also serves on the board of directors for the West Virginia Cattlemen's Association and on the Wardensville Bull Test Advisory Committee. He is involved with other agricultural groups including the WV Farm Bureau, WV Angus Association, American Angus Association and National Cattlemen's Association. He has served on the Farm Credit of the Virginias' board since 2014, serving as vice chair in 2021-2022, and succeeds Donald "Don" Reese as chairperson.
Kinsey said, "Don's agricultural roots and background, paired with his natural leadership abilities, served Farm Credit of the Virginias well during challenging economic conditions. Fortunately, I had the opportunity to serve as vice chair for the past two years, and gleaned valuable insight and understanding from the example he set. With the support of a seasoned and dedicated board, we will continue to put our customer-owners first and lead Farm Credit to success."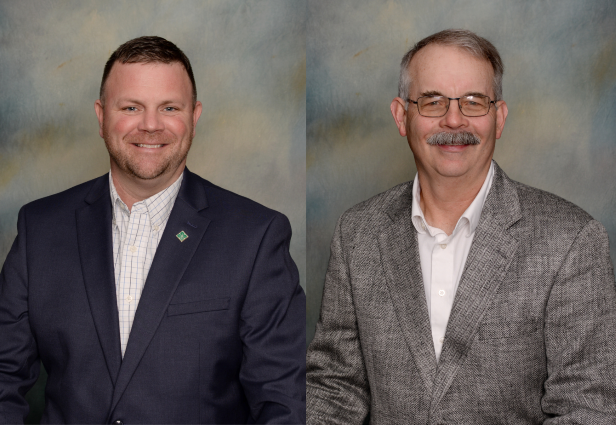 Kevin Craun was elected to serve as vice chairperson of the board. Craun owns and operates a 900-acre operation with his brother, which supports 190 dairy cows, 100 cow/calf pairs and dairy steers. He is a director and chairperson of the Shenandoah Valley Soil and Water Conservation District, a member of the Rockingham County Agriculture Stewardship Committee and he serves as a commissioner of the Virginia State Milk Commission. He has served on the Farm Credit of the Virginias' board since 2017 and is looking forward to taking on this new leadership role.
Regarding his new position, Craun shared, "I am humbled to be able to serve agriculture and our rural communities through my role as a member of the Farm Credit of the Virginias board of directors and an even more humbled to serve as vice chair. Together with the rest of the board, and under Jamie's leadership, we will work to guide Farm Credit's strategy and respond to the challenges confronting our producers and rural home and land owners."
Brad Cornelius, CEO of Farm Credit of the Virginias, said, "Our Association is blessed to have a strong and reliable board of directors to guide our organization as we continue to grow and work to meet the needs of existing, new and prospective customer-owners. Our board is a dynamic and knowledgeable partner, and I'm excited to see what the future holds for our cooperative and valued customer-owners under the leadership of Jamie and Kevin."
ABOUT FARM CREDIT OF THE VIRGINIAS
Farm Credit of the Virginias provides over $2 billion dollars in financing to more than 12,000 farmers, agribusinesses and rural homeowners throughout Virginia, West Virginia and western Maryland. Farm Credit is a cooperative capitalized largely through investments made by farmers, ranchers and the rural homeowners and businesses that borrow from them.  In fact, as part of a nationwide network they are the largest single provider of agricultural credit in the United States and have been for over 100 years.  Farm Credit helps maintain and improve the quality of life in rural America and on the farm through its constant commitment to competitive lending, expert financial services and for facilitating and sharing knowledge and resources through the Farm Credit Knowledge Center.
Back To News