Ag Biz Planner Class Graduates!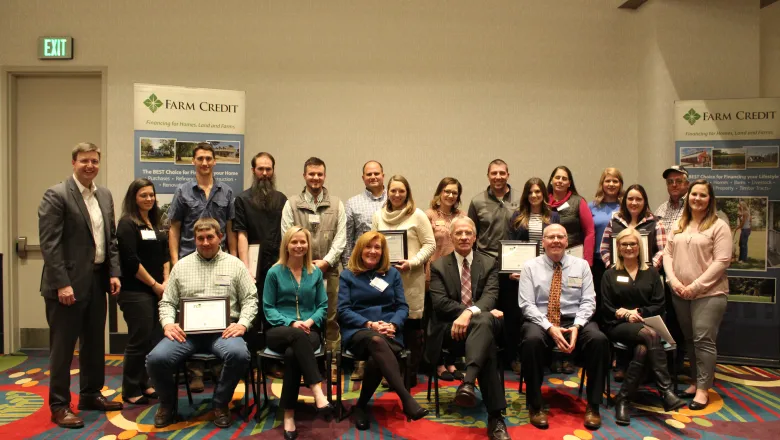 Young, Beginning, Small & Veteran Farmers
All the hours, all the effort, all the conversations and all the brainstorming came to culmination two weeks ago in Raleigh, NC at the Ag Biz Planner Final Conference and Graduation. Farm Credit of the Virginias had their 2019-2020 class represented with 10 participants and 5 mentors.
This graduation was the final step in an intense five-month journey for these participants – they started this course at the end of August and have been working through 10 online modules, quizzes, class exercises and more ever since.  As they worked through the course they also developed a business plan for their agriculture operation, and had the opportunity to share their business plan with Dr. Kohl and Dr. White for feedback.
This year's Ag Biz Planner class officially graduated two weeks when they travelled to Raleigh, N.C. to meet and visit with other Ag Biz Planner participants from several other Farm Credit Associations.  In addition to the official graduation ceremony, participants had an opportunity to hear from some dynamic speakers including Administrator Bette Brand, Dr. Alex White and Dr. Dave Kohl.  Topics included USDA programs, transition planning, personal finance, agriculture economics, and more – and the participants were able to put these lessons and skills to work as they interacted with other graduates from across Virginia, West Virginia, North Carolina and South Carolina.  This year's class from the different Farm Credit Associations showcased the incredibly diversity in agriculture – there were heritage farms, vegetable farms, grain producers, beef cattle operations, diary operations and others represented.
Congratulations to this year's class!! We look forward to seeing how their operations continue to develop.  If you are interested in participating in the Ag Biz Planner course, or know someone who is, please feel free to reach out to Sarah Scyphers at sscyphers@fcvirginias.com.  Applications will go out in May and are generally due early July.
Back to Blog