Ag Literacy Goes Far Beyond a Week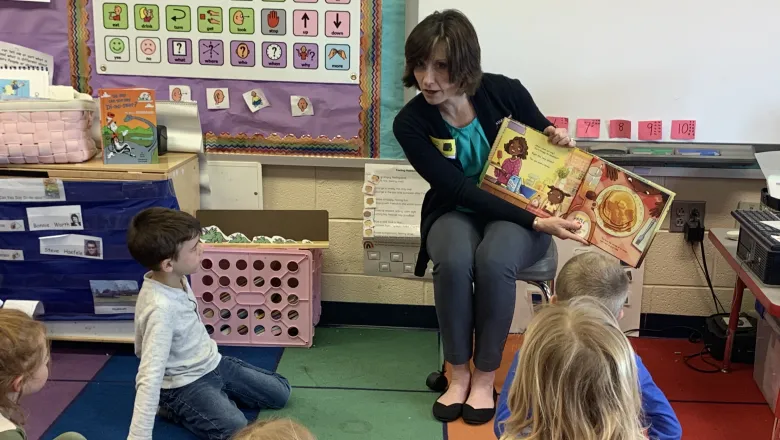 Last week was Ag Literacy week and our Knowledge Center team, as well as other member of the Farm Credit of the Virginias team, took time out of their week to visit with students across our footprint to read and talk to them about agriculture and how it impacts their daily lives.  This is one of the highlights for our team members, and as we looked back over this week, we were reminded that this week has long reaching implications....
"Agriculture is our wisest pursuit, because it will in the end contribute most to real wealth, good morals and happiness." ~Thomas Jefferson
Chances are, you've heard this quote from Thomas Jefferson before, it tends to get used fairly often.  And while we can all appreciate the sentiment, with the current events that many in our agriculture community are experiencing, it would be easy to question the accuracy.  Farmers in the Midwest are dealing with catastrophic flooding after a brutal winter storm, prices and markets have producers for many different products across the country struggling, and the seemingly never-ending rain we have experienced in much of Virginia and West Virginia for the last year has made even the simplest tasks challenging at times. 
Yet the farmers and ranchers that produce food and fiber not only for the U.S. but for many people across the world continue to move forward.  They struggle, and some have had to make the choice to stop farming, or at least change what they were producing; but the majority of them continue.  And as much as they are able, farmers who are more fortunate are sending help to those in need.  As we write this, truckloads of hay are making their way from all over the U.S. to help those in the Mid-West who have lost all the feed they had stored for their livestock, much as they did during the devastating fires a few years ago.
And as we shared with students about agriculture and how it impacts each of them every single day, not matter if they live on a farm or not, the long reaching impact of agriculture was obvious.  While many of these students had at least an idea of where their food comes from, and what farmers do to help everyone, for many it was information they were hearing for the first time.  To see them look at their clothes, food and other items with a new understanding - it has an impact.  Not just on the children themselves, but on those of us who were sharing, and hopefully, a positive impact on those who are producing that food and fiber.
Ag Literacy week is a great time to share about agriculture and all that it does for all of us... but it also serves as a reminder that we need to be sharing about, and appreciating, agriculture and its impact each and every day, and doing our part to help support this great industry.
Back to Blog