Careers in Ag Outlook 2020-2025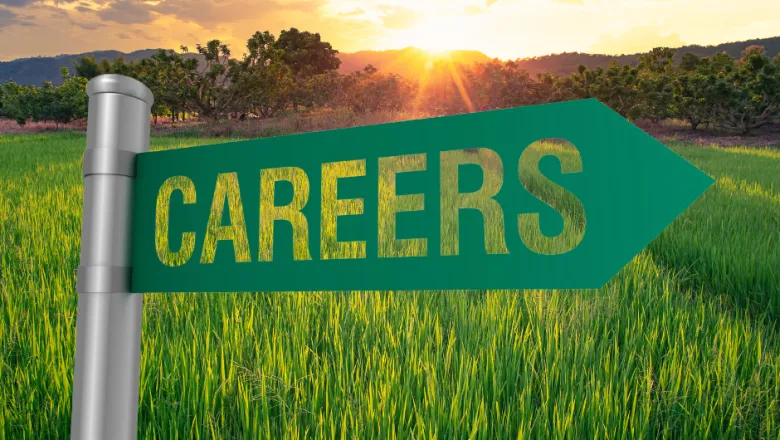 Young, Beginning, Small & Veteran Farmers
Ambitious and prepared new college graduates enter the workforce each year. There are approximately 59,400 annual openings in the field of food, agriculture, renewable natural resources and the environment. It is expected that employment opportunities will remain strong between 2020-2025. 
The major employment areas within this sector will be Management & Business and Science & Engineering followed by Food and Biomaterials Production, Education, Communications and Government Services. 
Growth Estimate
Between 2020-2025, it is estimated that there will be a 2.6% growth in employment opportunities for college graduates obtaining a bachelor's degree or higher. 
The 59,400 annual openings break down into the following employment areas.
Management & Business – 24,700
Science & Engineering – 18,400
Education, Communication & Government – 8,400
Food & Biomaterial Production – 7,900
Career Profiles
There are multiple job opportunities that fall into these major employment areas. Agcareers.com has a searchable database of more than 250 career profiles taking a deeper look into each specific career. Career profiles contain a job overview, responsibilities, required education, potential employers, job outlook and more.
Specific Career Outlooks
Taking a deeper dive, the following is a snapshot of careers within the employment areas that show favorable and positive outlooks over the next five years.
Production Manager
Overview-Works in a variety of settings within the ag industry including animal production, seed and chemical production and the food sector. Production Managers oversee the day to day operations that relate to the successful production of the product the company is producing.
Required Education-Bachelor's degree in agricultural business, food science, animal or poultry science.
Career Outlook-Good over next 5 years
Mechanical Engineer
Overview-Mechanical engineers are involved in the generation, distribution and use of energy. To include the control and automation of manufacturing systems, design and development of machines or the solutions to environmental problems.
Required Education-Bachelor's degree in mechanical engineering.
Career Outlook-Great over next 5 years
Food Safety Specialist
Overview-Responsible for meeting food safety standards. They oversee the processing, packaging and preparation of foods to ensure the specific safety standards are met. The standards can be implemented by the company or other regulatory organizations.
Required Education-Bachelor's degree in Food Science, Chemistry, Microbiology or Environmental Health
Career Outlook-Good to Excellent over next 5 years
Communications Specialist
Overview-works in the area of communications with responsibilities in writing, editing, branding and public and media relations.
Required Education-Bachelor's degree in agriculture communications, agriculture marketing, agricultural journalism, communications, public relations or related field.
Career Outlook-Great over next 5 years
There is a positive growth outlook over the next five years for careers in the agricultural industry. College graduates can expect to see annual job opportunities around 59,400. Career types are numerous within the major areas of employment and include Management & Business and Science & Engineering followed by Food and Biomaterials Production, Education, Communications and Government Services. 
Career Resources
Students looking to pursue a degree in agriculture are encouraged to browse the over 250 career profiles available at www.agcareers.com. 
College students nearing graduation or have already graduated and are seeking opportunities are encouraged to visit www.agcareers.com to browse the multiple resources available to candidates entering the workforce.
General career information to include projected job openings (2019-2029) can be found at https://www.onetonline.org/find/industry. Career information on this site is sourced from the Bureau of Labor Statistics. 
Article Resources
Data and information presented in this blog has been delineated from a report published by Purdue University, U.S. Food and Drug Administration, U.S. Department of Agriculture, NIFA. To read the full report, please visit: https://www.purdue.edu/usda/employment/
Career profiles data and information has been sourced from https://www.agcareers.com/career-profiles/
Download a PDF version of the infographic.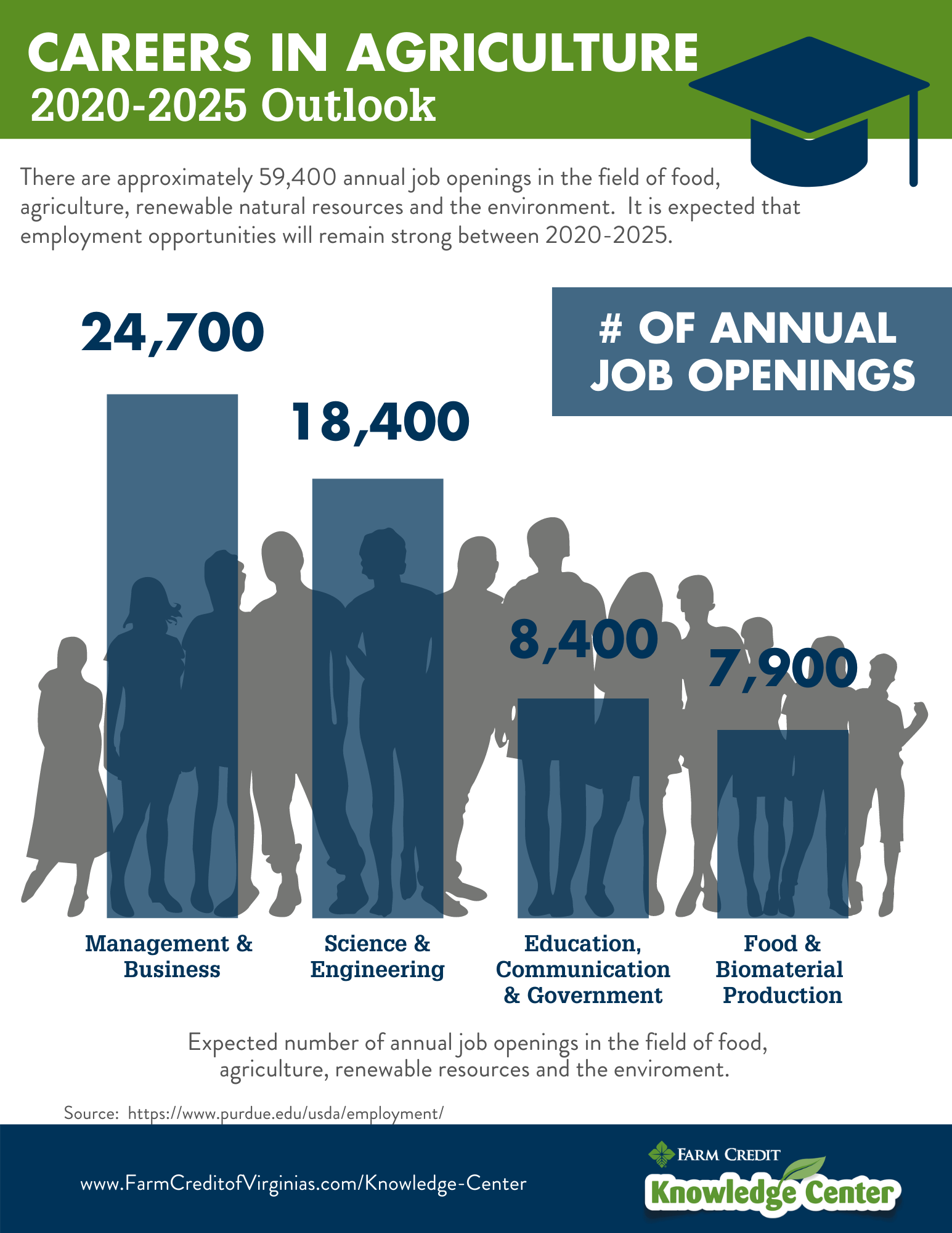 Back to Blog