Cut Flower Farming?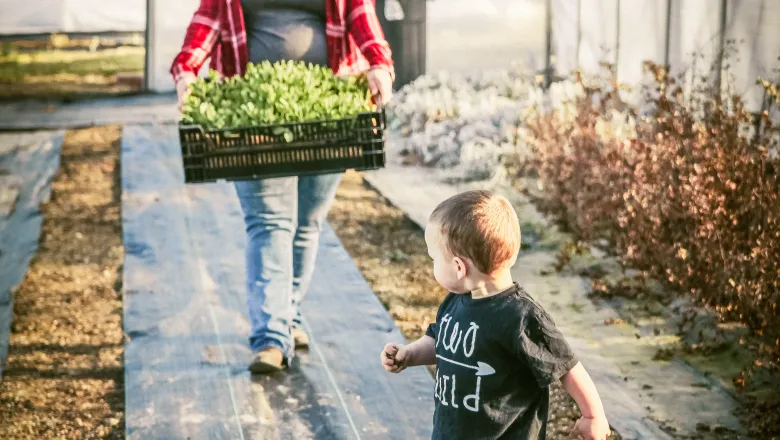 July is American Grown Flower Month... but we're willing to bet that not too many people know what a cut flower farm looks like, or what is needed to be successful as a cut flower farmer. Good news is, we have a great cut flower operation that is willing to share their story and how they have started and grown their operation!
Thank you to Harmony Harvest Farm for bringing this week's blog! 
Harmony Harvest Farm is a cut flower farm in Weyers Cave, Virginia. Bet you haven't heard of too many of those, huh? With less than 1,000 flower farms in the country, Harmony Harvest Farm is one of the largest flower farms on the East Coast producing tens of thousands of blooms each month from March to November. Founded in 2013, Harmony Harvest Farm is family-owned by horticulture gurus Jessica and Brian Hall and Jessica's parents, Chris and Martin Auville.
Though the family comes from generations of livestock producers, flower farming was new and came with very unique challenges. During the first few years, the family worked to build the infrastructure needed to produce a profitable amount of product. This included investments in a design studio and flower processing center, walk-in coolers, irrigation, and, of course, an ever-growing library of seeds and plant starts. With the help of Farm Credit, what started as a 20-acre farm of rolling fields is now a full production flower farm with six high-tunnel houses, one greenhouse, and seven acres of field plots.
As Harmony Harvest Farm grew, so did their harvests. Each year the farm produced significantly more flowers than the year before, and the farmers knew they had to find more ways to distribute the highly-perishable crops profitably. In 2017, Harmony Harvest Farm became one of the first medium-sized flower farms to start a private shipping program.
"We couldn't have done it without Farm Credit" says Jessica. They gave us the resources we needed to invest in things that made the program not only possible but successful."
Today, the farm ships fresh-cut flowers to florists and DIY customers across the country, as well as bouquets for over 20 Whole Foods stores across the East Coast. Want learn more about the family and their fresh-cut flower operation?  Keep an eye out for the next Ag & Culture video coming soon!
Back to Blog