Discover the Best Types of Christmas Trees for Your Home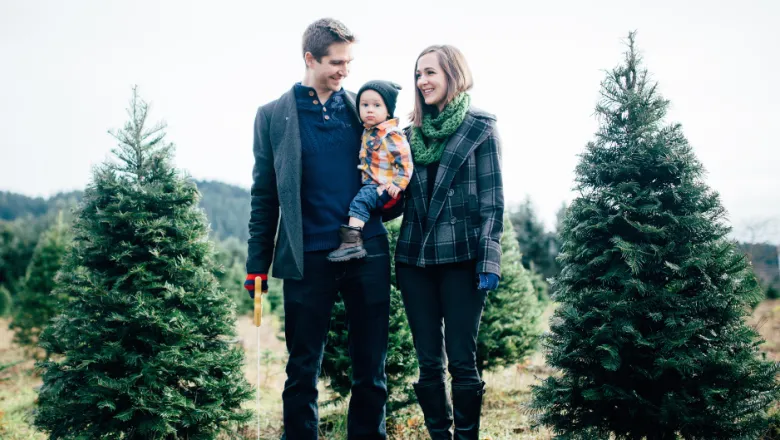 Choosing the Best Type of Christmas Tree
Choosing the family Christmas tree is the perfect way to create memories and traditions that can last a lifetime.  Most people can tell stories of family visits to Christmas tree lots or Pick-your-Own Christmas tree farms. Often, these stories are told every year as new memories are made. 
Christmas trees are an important part of the holiday season and are part of the agriculture industry. Farmers across the United States work diligently to plant and grow multiple species of trees in preparation for the holiday season. Some farms grow trees commercially and others grow trees to support local markets. Agritourism is popular this time of year as families bundle up and head to their local you-pick tree farm or tree lot in search of the perfect family tree. Tree farming operations are an integral part of the ag industry and one we as consumers hold dear to our hearts. 
To get an insider's look at a tree farm, watch our Ag & Culture video series highlighting Woodlake Tree Farm in Maryland. You will learn more about a tree's journey from seed to the roof of a car.
Since the Christmas tree is the focal point of your holiday season, it's important to pick the one that best fits your needs. To find that perfect tree, we've put together some fun facts, resources for finding a Christmas tree farm near you, information about tree selection and care, and an infographic of commonly found trees.
Christmas Tree Fun Facts
A Christmas tree is typically 6 to 7 feet tall. It can take as little as 4 years to reach this height, although the average growing time is 7 years.
Tree recycling is a real thing! The U.S. has more than 4, 000 recycling centers.  Recycled trees become mulch, soil erosion barriers and placed in ponds to provide shelter to fish.  Access the National Christmas Tree Association's Recycling Guide.
Live Christmas trees have been sold commercially in the U.S. since 1850.
There are more than 15,000 Christmas tree farms in the United States.
Franklin Pierce, the 14th President of the United States, was the first to put a Christmas tree in the White House.
Tree farms
A trip to a Christmas tree farm is a time honored tradition for some.  If you have not made the trip to a tree farm, you may want to consider it this year!  Choosing and cutting down your own Christmas can be fun for the whole family!  And don't worry, Christmas tree farms have everything you need!  Here is a little of what you can expect.
Farms will have a list of available tree types and their pricing.
They will give you directions as to where to look for the type of tree you want.
They have saws available! If you've never sawed a tree down, ask the farm staff how to do it.  It's pretty easy too!
Farms may provide different ways to 'wrap' your tree for the trip home.
Be prepared to load and secure your tree. Because of liability, farm staff may not be able to assist you.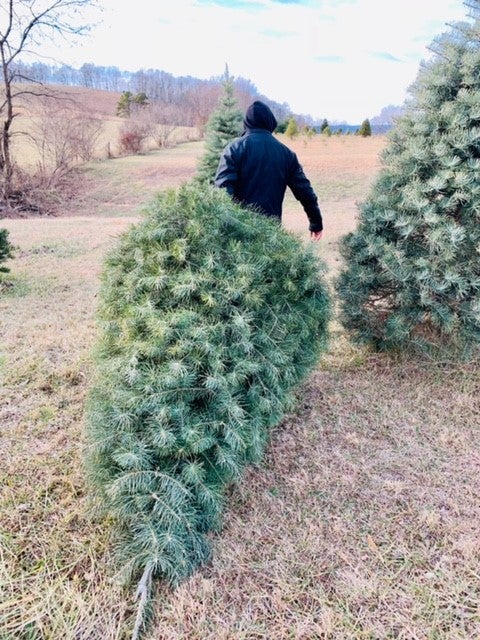 Find a Christmas Tree Farm Near You!
We have compiled a list of resources to help you find a tree farm in your area.  You can also do a simple internet search.  Don't forget to call ahead for hours of operation and availability. 
Virginia
www.virginiachristmastrees.org
https://www.virginia.org/virginiatreefarms
http://vagrown.va-vdacs.com/Default.aspx?category=CHRISTMAS%20TREES
West Virginia
https://wvforestry.com/app/uploads/2020/11/christmas-tree-book-2020.pdf
Maryland
https://www.marylandchristmastrees.org/
https://marylandsbest.maryland.gov/maryland-real-christmas-trees/
Selecting the Best Type of Christmas Tree for your home
Your Christmas tree is an important decision and you want to make sure it's just right!  Follow these selection tips to ensure you get exactly what you're looking for. 
Determine where the tree will be located.
Pick a spot with low household traffic.  Maintain safety by picking a location away from heaters, fireplaces and heat vents.  Measure the space so you know how wide the tree can be.  Also, measure the height.  Remember to add six inches above the tree to allow for any tree topper decoration.
Know what type of tree you want
Before you head to your local Christmas tree farm or lot, determine which type of tree will work best for you.  Take into consideration how you decorate.  Do you have heavy decorations that may need sturdy branches?  Are you looking for a dark green tree or one that may have a hint of silver?  Do you have children helping to decorate?  Children are more successful when the tree has branches that are easily accessible.  Do you have a lot of hanging ornaments?  Trees with branch spacing allows for better hanging space.
Do a walk around
When studying a tree, take 5 steps back and view from different angles.  Make sure the tree looks the way you want it to from all angles.
Check for freshness (if choosing a pre-cut tree)
Needles can tell you a lot about the tree's freshness.  Test this by bending a needle in half.  If it is a fresh fir the needle should snap.  If it's a fresh pine the needle should bend but not break.  Another test is to gently grab the branch and pull toward you, running the needles through your hand.  The needles should stay on the tree and not fall off.  You can also test this by picking up the tree and tapping it on the ground.  Look to see if needles fall off, which would indicate a tree that is not very fresh. 
Tree Care
Once the tree is home, you will want to take steps to ensure it stays fresh as long as possible.  Follow these tips to keep your tree looking perfect.
Cut off about a half-inch from the bottom of the tree's trunk. Having a fresh cut will allow the tree to absorb more water. 
Place the tree in water as quickly as you can after you make the cut.
Keep the water in the tree stand filled. This ensures the tree does not have time to dry out.  It is normal to have to add water two or three times during the first few days. 
Types of Christmas Trees
Christmas trees are often chosen for their pine aroma, looks, and ability to hold decorations.  We've compiled a list of trees and their ratings for aroma and décor and their best described color.
Additional Tree Type Information (University of Illinois Extension https://web.extension.illinois.edu/trees/types.cfm)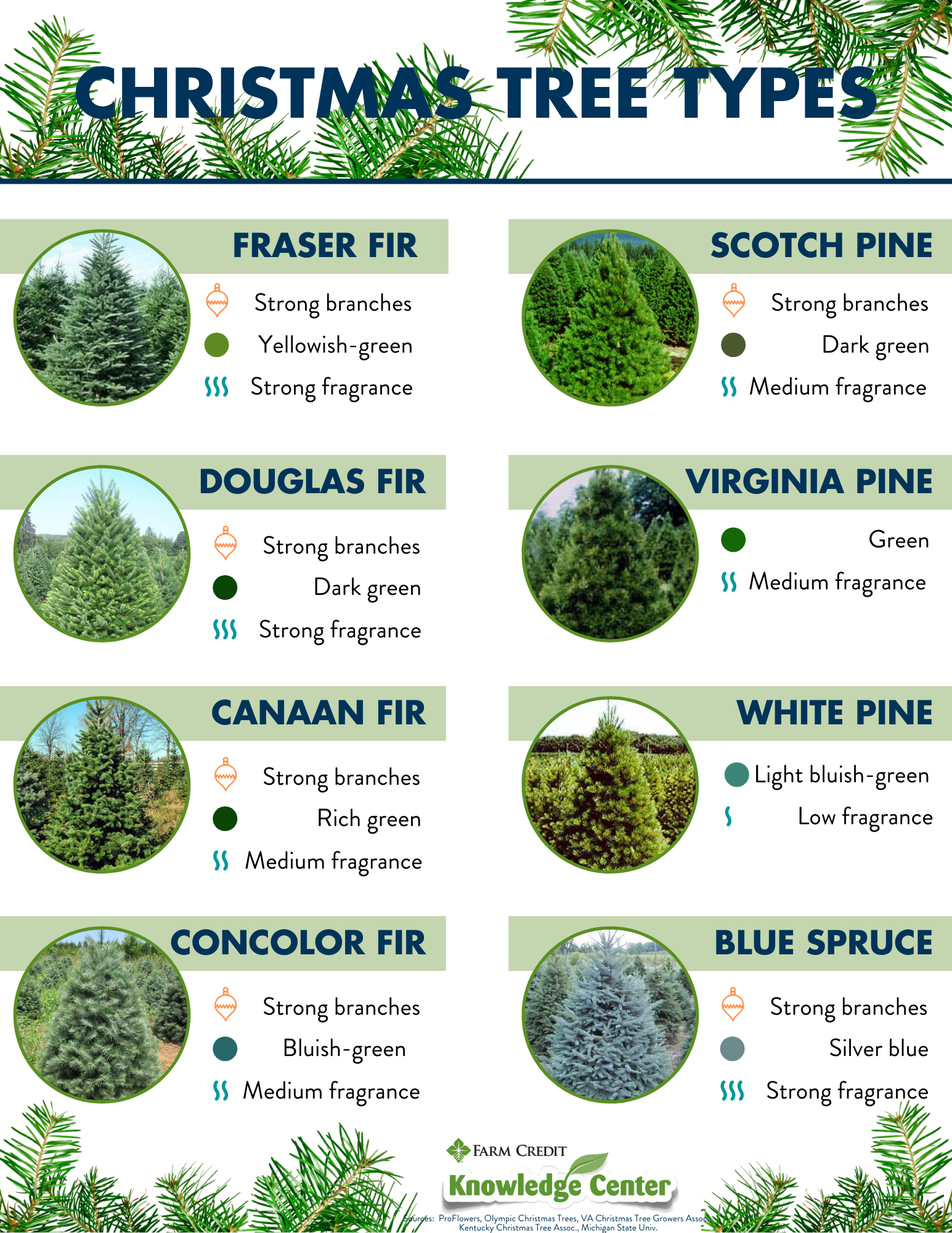 The holiday season is upon us and so is the joy of Christmas tree hunting!  If you have not yet had the experience of cutting down your own family tree, we encourage you to try it this year!  Tree farmers are helpful and help to foster an experience with lasting memories.  Don't forget to thank the farmer for their work in providing such an important agriculture commodity! 
Happy Hunting!
Sources:  National Christmas Tree Association, Accuweather, University of Illinois Extension, infographic idea source:ProFlowers
Back to Blog