Employee Spotlight: Susie Johnson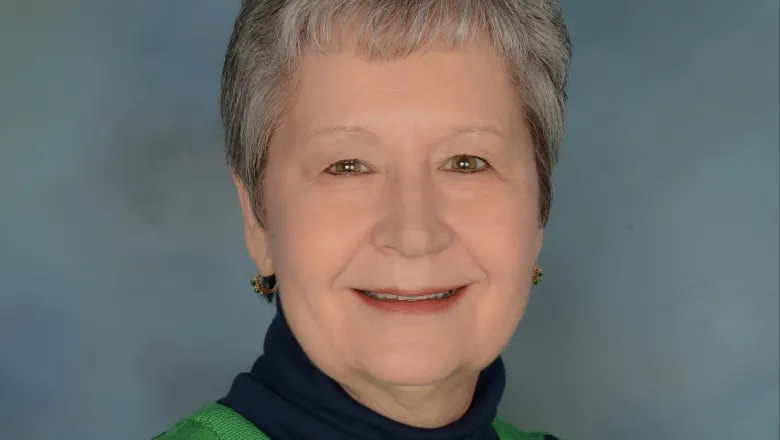 Location: Harrisonburg Branch
Job Title: Senior Loan Processor
Tenure: 27 years
Briefly describe your involvement in agriculture. I grew up in Grayson County, Virginia and we had beef cattle. I was also around my grandparents' farm all the time. They had pigs, dairy cows, beef cattle, chickens and horses. Some of my fondest childhood memories are going to the barn with my grandparents to "help" them milk the cows and gather the eggs. After getting married, my husband and I bought a 32-acre farm and raised sheep and beef cattle. When we moved to the Shenandoah Valley, we bought a 50-acre farm and the pasture is currently rented to a local beef cattle producer. 
List and describe any other clubs or organizations that you are actively involved in. I am an active member of the North River Ruritan Club and co-chairman of the Citizenship and Patriotism Committee. I am also an active member of the Moscow Church of the Brethren and one of the music leaders. It has been my privilege to sing the National Anthem at the Virginia Club Calf Producers annual show and sale for the past several years.
Tell us about your family. My husband, Randy, and I have two children and three grandsons. Our son, Chris, lives in Christiansburg, VA. He and his wife, Rachel, sell real estate and he also closes loans for a title company. He is the wrestling coach at Blacksburg High School. Their son, Adam, is our oldest grandson and is currently working at Texas Roadhouse in Christiansburg. My daughter, Lori, lives near us in Mount Solon, VA and is the Director of Audiology at UVA. She and her husband, Tim, have two sons, Emmett, 10, and Isaac, 7. They also have a Christmas Tree Farm that keeps them quite busy.
Has anyone in particular in your family had a significant impact on you? My Daddy had a significant influence in my work life. He was manager of a textile plant and that was where I had my first public job. He told me to show up every day, on time, and learn as many things about my job as I could possibly learn. If the opportunity presented itself to learn a different job in the plant, do it. He told me the more I learned, the more valuable I would be as an employee and if the time came that people had to be laid off, I would be more likely to be kept as I could work in any position. That advice has served me well in every job I ever had.
What is your favorite song or artist? I love country music, especially from the 70-90's, but my favorite artist of all time is Elvis. I was able to go to an Elvis concert when I was an early teen and I will never forget it.
What is your favorite food? My favorite food is broiled and/or fried scallops and no place fixes them better than the Rustic Tavern in Carlisle, PA.
What is your favorite place you ever visited? Maui is my favorite place I have visited. It was beautiful with vivid colors and so peaceful and serene - the closest thing to heaven I could imagine being on this earth.
What was your dream job as a child? I wanted to be a surgeon, although it is a good thing that did not pan out as I get weak from the sight of blood.
Tell us about your hobbies. I love to cross-stitch, read and cruise to Bermuda and the Southern Caribbean. I just completed a cross-stitch picture that I worked on for approx. 18 months for my son that was a winter scene of 5 bucks in the snow-covered forest. That was the hardest and most complex picture I have ever worked.
What's one accomplishment in your life that you are really proud of? I can't narrow it down to just one - I have been blessed to have been married for 49 years this year, am a cancer survivor of 29 years and have lived long enough to see my children educated, married, have families of their own and be successful in their work.  
What is the most interesting or favorite aspect of your job? I am the support person in the Agribusiness Unit in a combination role of Business Service Specialist, Business Relationship Specialist and Loan Processor. I love working on the more complex accounts as they are challenging and I learn so much in the process. I also get to work with really great people in our unit and we have some wonderful customer-owners that I really love working with on a regular basis.
What advice would you give to a job seeker who is thinking about applying for a job with FCV? I would pass along the same advice my Daddy gave me; Go to work every day, on time, and learn everything you can about your job. When the opportunity presents itself, learn another job. Pay attention to details and be the best you can be at what you do.
What would you sing at Karaoke night? If I was singing karaoke it would be something by Patsy Cline.
What trend do you hope makes a comeback and why? A trend I hope makes a comeback is a strong work ethic. People need to take pride in themselves and need to teach self-worth to their children. One way to do that is having a job they can be proud of, whether at home or in the public. Teach by actions; go to work, do a good job while you are there and use the money earned to better the lifestyle of the family.
 
Back to Employee Spotlights