Legislative Advocacy and Update 2022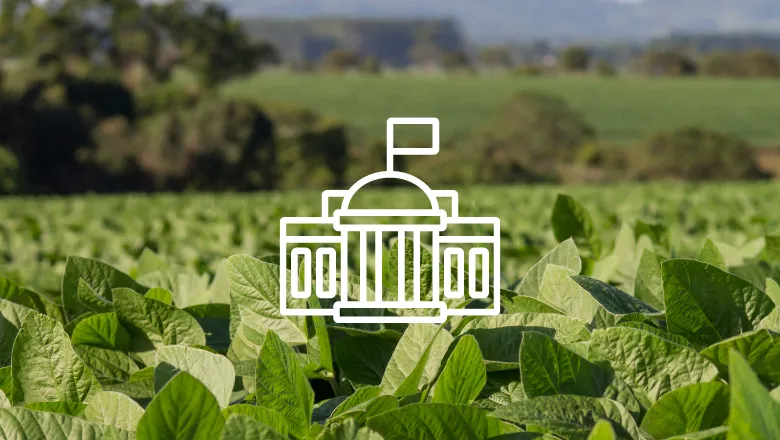 Farm Credit is known for building relationships with its customers, but it goes further than that. The Farm Credit System was established by Congress more than 105 years ago, and the directors and employees of Farm Credit understand the importance of sharing the Farm Credit story with those key members. Relationships are built by visiting and meeting with representatives in Washington, D.C. and the states within our territory, making trips to locations they are visiting and participating in events where we can share our story.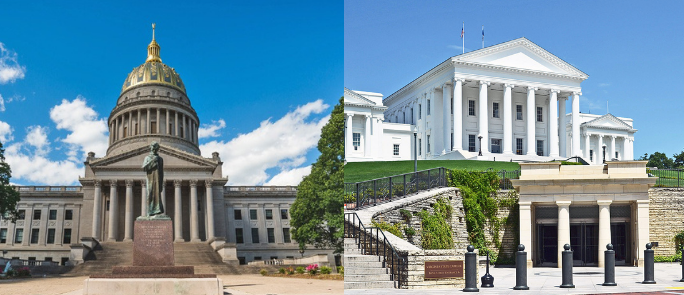 As the calendars turned to 2022, State legislatures in Virginia and West Virginia returned to the state capitols, ready to roll up their sleeves and meet in person again after a year of virtual sessions due to COVID-19. In Virginia, the 74th Governor of the Commonwealth, Glenn Youngkin took the oath of office, and his new cabinet and agency heads were selected and sworn in! Farm Credit was excited to congratulate Secretary of Agriculture & Forestry Matt Lohr and Commissioner of Agriculture Joe Guthrie on their appointments. Secretary Lohr served as the first Director of the Farm Credit Knowledge Center and has a deep passion and background in advocating for agriculture in Virginia and beyond! 
State legislative sessions typically last 45- 60 days, and members of the state House and Senate will consider thousands of proposed bills during that short amount of time! Both Virginia and West Virginia legislatures are considered part-time citizen legislatures, meaning that legislators serve in their elected positions in addition to managing their businesses, careers, and families outside of session. These elected men and women, and their staff, work long, hard hours during the legislative sessions.
Committee meetings to hear bills start at 7:00 am and sometimes go on until the last Committee or floor session finishes close to midnight. Thousands of visitors, including Farm Credit Board members and employees, head to the state capitols to advocate on behalf of their interests and educate lawmakers on the positive and negative impacts of legislation on their livelihoods.  Farm Credit works proactively with other agriculture organizations and advocates for policies that will support the viability of agriculture, forestry, and our rural communities.
So, what can citizens in each state expect as a result of the 2022 legislative sessions? Below are some highlights of legislation that passed and will become effective as of July 1 (unless otherwise noted). 
Virginia
Dairy Support- Updated program to support dairy farmers through the Dairy Margin Coverage Premium Assistance Program by extending the application deadline and adding options for environmental compliance. You can learn more about how to participate here: https://www.vdacs.virginia.gov/pdf/smc-dpmc.pdf
Forest Sustainability Fund- Allows localities that have forest land use value assessment and taxation to apply for funding to offset the revenues the locality lost due to the forest use value program.
Expand meat processing- Directed the Department of Agriculture to create a strategic plan for increasing meat processing capacity in the Commonwealth.
Solar Installation Impacts- Sets in motion the process to evaluate the proper placement or mitigation of solar installations on prime ag soils or forest land, balancing current solar projects, landowner rights, and water quality concerns.
Farm Use Vehicle Tags- Requires an owner of a farm use exemption vehicle to obtain a permanent farm use placard from the Department of Motor Vehicles, and provide limited information about the vehicle and its usage.
West Virginia
Ag Zoning Protections- expanded protections against local government zoning of agricultural operations, by preventing county governments from limiting the use of natural resources by the owner of a tract of land for any size of a farm or agricultural operation.
Food Banks- added resources through the Department of Agriculture to encourage farmers to donate excess product to food banks.
Soil Conservation Districts- Revised definitions and modified the election process for Soil Conservation District supervisors. Removed the "active farmer with 5 years' experience or retired farmer" as a requirement to be elected to this position.
2022 Farm Bill- Updated Department of Agriculture operations and allowed Department of Agriculture to promulgate rules.
Veterinary Services- Allows veterinarians to practice telemedicine in West Virginia and established requirements to form a veterinarian-client/patient relationship.
And what about the state budget you might be hearing about? Virginia's legislature is still meeting in a special legislative session to debate and finalize the 2-year budget for the state, which must be completed and signed by the Governor by June 30. West Virginia approved their state budget at $4.6 billion, with $12.9 million dedicated to the Department of Agriculture, and $11.2 million for the Soil Conservation Agency.
The work of the legislatures and advocates doesn't finish just because the General Assembly sessions are adjourned. Numerous workgroups and commissions will meet throughout the year to continue to evaluate legislative and administrative proposals, with reports back prior to the legislative cycle starting up again next January! And, don't forget that in 2023, both states will have elections with new House and Senate districts as a result of the 2020 Census redistricting! Politics truly is never-ending, isn't it!
Do you want to be more engaged in advocacy? To learn more about how you can effectively advocate for agriculture, visit the Farm Credit Knowledge Center's Advocacy section on the AgHub. You can also sign up to join Farm Credit's grassroots advocacy system by visiting https://farmcredit.com/takeaction! We need many voices to join together to advocate for agriculture, forestry, our rural communities, and Farm Credit!
Author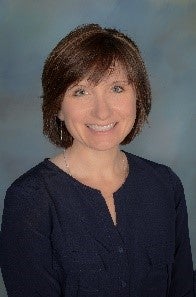 Katie Frazier, Chief Marketing & External Affairs Officer
Farm Credit of the Virginias
Back to Blog