Q&A with the 2023 FCV Summer Interns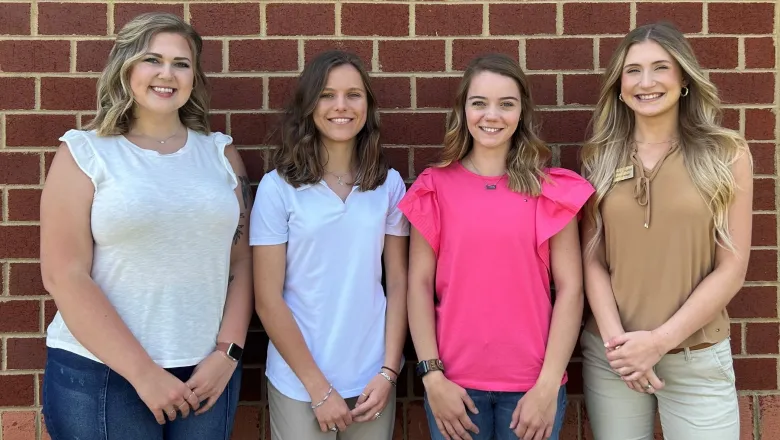 By: Madison Swope, Maddie Moore, Katie Miltenberger and Morgan Scofield
Q: What individual and group projects have you worked on this summer while interning for farm credit of the virginias (FCV)?
"I worked on various projects for the Farm Credit Knowledge Center, including converting the Knowledge Center Business Plan Template into a living document comprised of a series of modules. These modules walk through how to create a business plan with additional resources and audio advice." - Maddie
"In addition to individual case studies, Madison, Katie and I worked together to input and reformat articles pertaining to loan officer CRM training in Procedure Hub, the association's new platform for sharing and updating internal procedures. We were tasked with choosing a user-friendly format and creating articles based on questions from a presentation on lenders' use of CRM. We also converted existing procedures regarding CRM from an article format to a workflow format to streamline them and make them easier to follow." - Morgan
Q: List and briefly explain the farms, agribusinesses and regions you visited.
Verona Branch Tours– "We toured the flower fields at Harmony Harvest Farm and learned about the history of the operation, as well as plans for the future."
Lexington Branch Tours– "We saw home renovations, home construction, a poultry house operation and a vineyard."
Orange Branch Tours– "We toured a grain bin construction project, home construction and a vineyard in which a stable is being converted to a tasting room. We learned about the construction loan process, draw schedules and what to look for at construction sites when performing draw inspections."
Agribusiness Unit Tours– "We toured Moo Thru ice cream shop (Remington location) and Cool Lawn Farm (associated dairy operation), CFC Farm & Home Center Culpeper (feed mill, fertilizer plant, retail store), Messick's Farm Market (market, activities for kids, pick-your-own berries and flowers, festivals), Pearmund Cellars (vineyard), Owl Run Nursery, Commonwealth Greenhouse (contract growing plants/flowers), Robert S. Coleman Lumber Company (lumber yard and sawmill). We learned all about the different commodities and the work it takes to produce their finished product. These were all agribusiness accounts, so they were much larger and more complicated than any we had previously seen on branch farm tours."
Leesburg Branch Tours– "We visited Orchard Manor Show Stables, a horse boarding and training facility that also offers show opportunities in Loudoun County, where we learned about the history of the property and how the owner began her business. We also visited Spring House Farm, cattle operation in Loudon County, and spoke with the owner about his movement toward sustainable agriculture."
Chatham Branch Tours– "We visited Briar View Farms (tobacco and cattle/grains), where we learned about the tobacco industry, and how it is different from other agriculture industries due to regulation and the marketing/selling process. Then we visited Hammock Dairy and had the opportunity to see the parlor in action. We heard about the history of their operation and how they've expanded over the years. We were also able to see a high-tech calf barn, where each calf is allotted an amount of milk, and rationed using an RFID tag to identify the calf."
Abingdon Branch Tours– "We toured Copenhaver Brothers Farm, a cattle operation, and spoke with two generations of Copenhavers about the history of their operation, how they have grown and how they manage risk. Next, we visited a cattle buying station called CH Cattle Company and saw their processing facilities. We learned about how they give back to their community and how their operation helps farmers in the area."
Q: Have you attended any Customer Appreciation/Engagement events this summer?
"As part of the Verona branch customer engagement event, we helped loan officers at the Augusta County Fair in late July. In addition to set-up and take-down, we greeted Farm Credit customers and assisted the donut truck (Better-N-Grandma's) by identifying customer-owners and handing out free donuts!" - Morgan
Q: briefly describe your case study.
"Katie, Morgan and I were tasked with analyzing Donald and Daisy Duck's financials to determine their eligibility, as well as the scope of the loan they would need to help finance their purchase of Daisy's parents' 50-acre farm. We each worked on the case study individually and presented our decisions for the loan request." - Madison
Q: describe your final presentation.
"Our final group presentation is a recap of all of the projects that we worked on over the summer, farm tour takeaways and a reflection on our overall experiences this summer. We also completed individual presentations about our own experiences and what we have learned through working at Farm Credit of the Virginias." - Morgan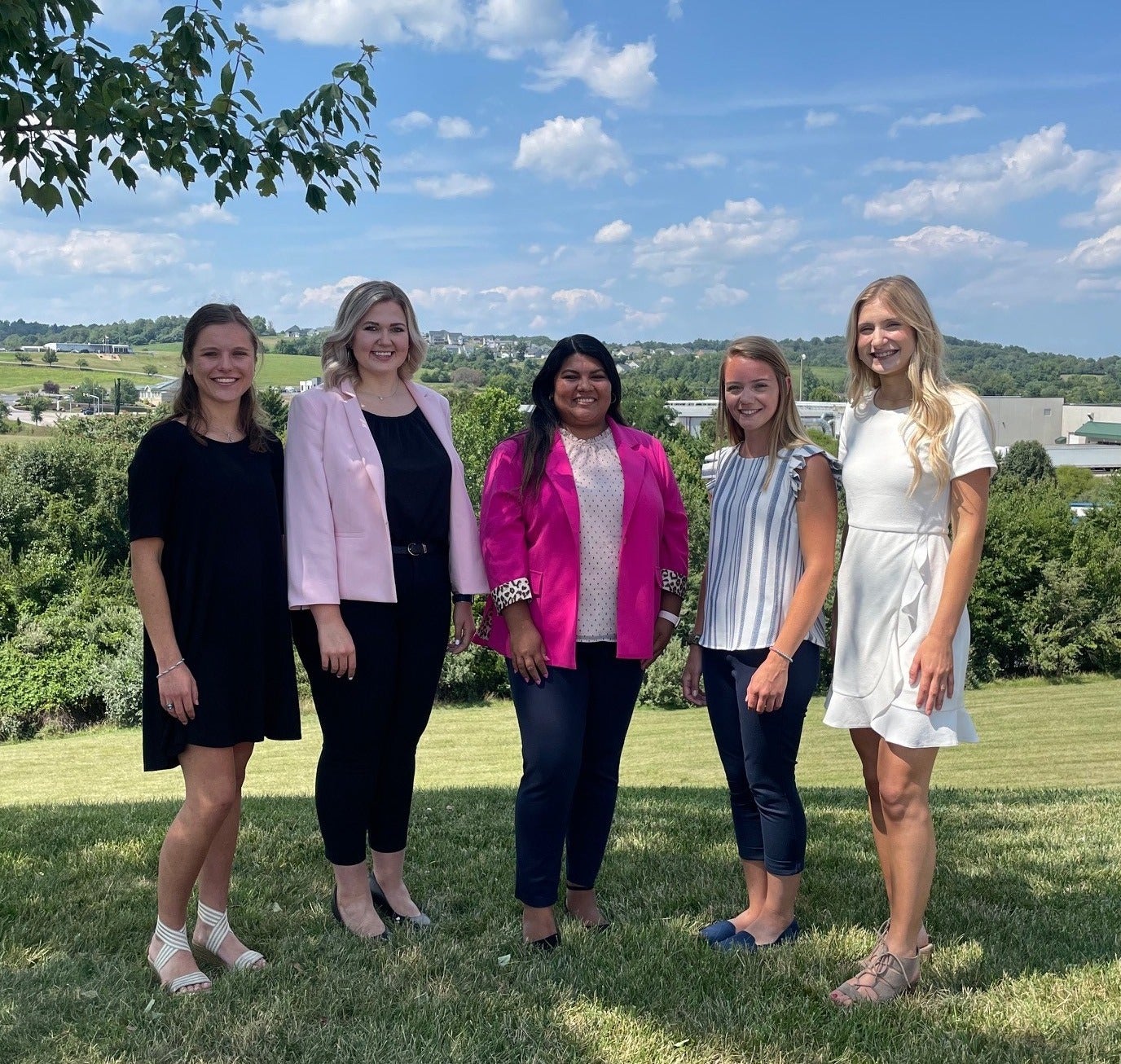 Q: What are some key takeaways from your experience?
"I have learned that if you are confused or simply want to learn more, ASK for help. Everyone at Farm Credit was more than willing to answer any questions, and they all respond to you showing enthusiasm or interest in their job. Jill and everyone in the Credit department have been so good about letting me follow them and explaining any concepts I find a bit more difficult to understand." - Morgan
"I have thoroughly enjoyed my experience here at Farm Credit. I have learned the life cycle of a loan and how the different departments work together. I have been grateful for the networking opportunities and chance to learn about the different agricultural commodities that Farm Credit of the Virginias funds." - Madison
"This summer I have gained a wealth of new knowledge and skills, as well as a supportive and inspiring community as a part of Farm Credit of the Virginias. I have had the opportunity to meet some of the hardest working and most inspiring individuals who share a similar passion for agriculture advocacy. I have enjoyed every day spent interning for Farm Credit of the Virginias and I have gained an understanding of how this cooperative makes dreams come true through agricultural and rural financing opportunities." - Katie
"One takeaway from my experience this summer is to never be afraid to ask a question! When you are curious about a subject, those who are passionate about it love to answer. Step out of your comfort zone – don't be afraid to ask how to do something or try something new; you grow when you place yourself in a new setting." - Maddie
Q: What was your favorite part of the internship?
"My favorite part of this internship was being able to work directly with a variety of departments, and seeing how they all interact with each other. I have enjoyed my time shadowing the credit analysts and working with my mentor, Jill, as I have learned about credit analysis and how the underwriting process works. I have also loved being able to visit different farming operations throughout the footprint and hearing their stories." - Morgan
"My favorite part of the internship would be the farm tours; we were able to see firsthand how different operations structure and market themselves. I also enjoyed learning about the different departments that make up Farm Credit, and how they collaborate to efficiently make loans." - Madison
"My favorite part of my internship experience has been the opportunity to visit so many diverse farming operations and properties that FCV has financed. Meeting individuals and farmers to tour and learn about their background and current operations face-to-face was really impactful in understanding how Farm Credit's vision, mission, and values are put into action." - Katie
"My favorite part of this internship was getting to know the 'why' behind Farm Credit through talking to their employees and customers. It truly feels like a community here, where everyone supports each other in their projects and work! Farm visits were also a huge highlight of my summer." - Maddie
Back to Blog