Special things you find in an FFA jacket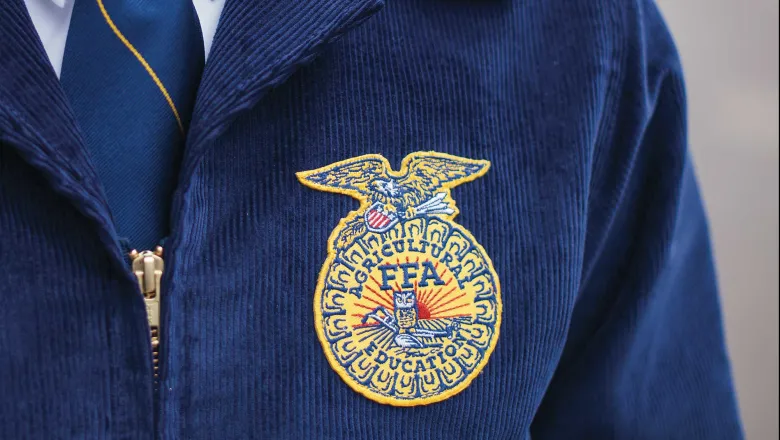 Young, Beginning, Small & Veteran Farmers
This blog was used from www.agdaily.com/ffa/special-things-find-ffa-jacket/ and was written by Kacie Hulshof, Staff Writer
There is no hiding the fact that FFA is a unique organization with unique circumstances. Where else in high school do you find castration tools and extra panty hose in the same place? When dealing with unique situations, it can be difficult to describe everything that goes into the process. While FFA students across the country celebrate National FFA Week, there is an extra spotlight on the students and the organization. A great way to celebrate National FFA Week is to celebrate everything that makes it unique.
We asked FFA members what they have in their FFA pockets that might confuse other people. While some answers are explainable, others are highly unusual and things that only FFA members would understand.
Run-of-the-mill items included paper clips, coins, pencils, tide sticks, band aids for blisters, bobby pins, calculator, and gum. But for those other items? We feel better knowing that FFA students are already used to having to explain themselves ("Why did you drive a tractor to school today?" "Are you in the organization to be a farmer?" etc.) The same goes for what they keep in their pockets.
Items FFA members understand too well
FFA students have to keep practical items in their pockets that they may need for everything livestock or plant related. For example, show combs, cattle treats, castration bands, hay, twine, zip ties, bits of pig feed, and plant shears.
Many of the pockets included the necessities for the women in FFA — clear nail polish for runs in tights, the FFA scarf, mini bottle of hairspray, safety pins, mini lint roller, and an extra set of nylons.
Many students utilized their pockets to help with competition events. For example, students will keep past tests to help them study or have a mini laminated paper chart for parli pro. Another helpful tip is to have peppermints in your pockets while testing to help you concentrate.
Another great item to keep in your pocket is a deck of cards — this is a perfect way to make new friends!
Memories 
Many items found in the FFA jacket are kept there for nostalgic reasons. FFA students like to keep a token, such as a pen from each convention that they attend, as a memory to look back on.
Even though they are useless, the key cards from past hotel rooms are a fun way to commemorate the trips taken with your chapter.
FFA students are also used to eating on the road quite a bit and a lot of receipts from restaurants across the state can be found in FFA pockets. 
Unique
While many items in the FFA jacket are the same across the board, some FFA members keep certain items in their jacket for a specific reason. For example, some items have special meaning, while other items are there because of superstition.
Some FFA members keep personal items, such as their parents or grandparents CDE pins, pinned on the side of their jacket for good luck.
It is also important to keep in mind the student's medical needs. For example, the FFA student who has Lactaid pills in their jacket. It's hard to be an ag kid when some dairy-based products don't settle well with your stomach.
While other FFA members may have empty pockets, or just the necessities, some students keep certain items because of a superstition. One FFA student said they never emptied out their FFA jacket pockets until after their senior year because of a superstition about competing.
As you celebrate National FFA Week, don't forget the special items you hold near and dear to you while you wear that blue corduroy jacket.
Back to Blog