Strong Roots & Strong Bonds Energize Young Dairymen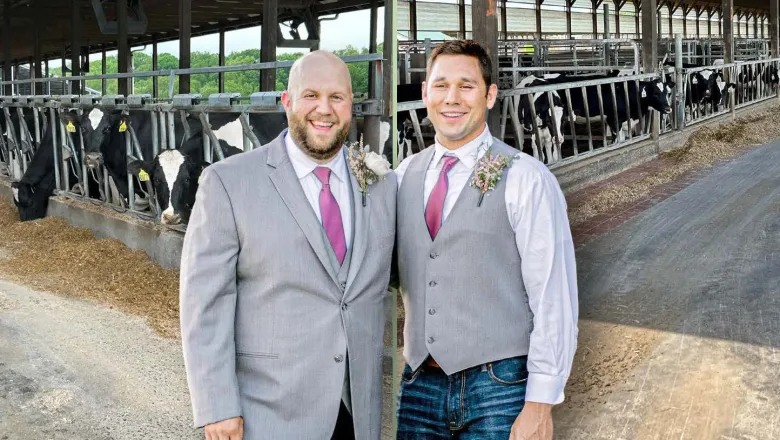 Young, Beginning, Small & Veteran Farmers
June is National Dairy Month and to celebrate this important facet of agriculture within our footprint, we are highlighting two young dairymen. Isaac Hammock and Ben Smith grew up on family-owned dairy farms in Virginia and decided they wanted to continue their family legacies by joining the farm full-time after college. They met at Virginia Tech, where they both studied in the College of Agriculture and Life Sciences and joined the agriculture fraternity, Alpha Gamma Rho (AGR), as well as Dairy Club. Isaac and Ben bonded immediately over their similar backgrounds and love for the dairy industry. Read on to see how the two operations have found success over the years, continue to grow, transition to the next generation and how lasting connections have made an impact.
Isaac Hammock of Hammock dairy
Isaac Hammock is 31 years old and a fourth generation farmer, but third generation dairy farmer. He didn't always want to be a dairy farmer, but after completing a research paper in high school on agricultural engineering (a career path he was considering), Isaac realized that becoming a full-time dairy farmer was a better fit, as he enjoyed working outdoors and seeing the fruits of his labor. He went to Virginia Tech and earned his bachelor's degree in Dairy Science in three years. While there, he met other agriculturalists and like-minded students from up and down the East Coast, many of whom he is still in touch with today. Following Isaac's Virginia Tech graduation on a Saturday, he headed back to the family farm to get started that Sunday, and now that he has been farming full-time for ten years, he said he can't imagine doing anything else. Isaac's parents made sure that he knew he could do anything he wanted to do, but they also ensured the farm would be able to support him if he chose to come back. His family has the same attitude with Isaac's younger brother, who is still in college, and Isaac hopes to do the same for his own children. Isaac and his wife, Katie, just welcomed their first child, a baby boy, on March 5, 2023.

Isaac's great grandparents purchased a farm in Pittsylvania County, VA nearly 100 years ago, and the operation has grown and evolved from tobacco, beef cattle and a little bit of everything to the successful 800-cow dairy operation known as Hammock Dairy that it is today. Isaac's grandfather, father (Nathan) and two uncles began milking 50 Holsteins in February of 1988 using a double six herringbone parlor. Over the next six years they grew to 200 cows and transitioned to milking three times per day, rather than twice. In 1994, they remodeled the parlor and expanded to a double 10 herringbone. They added and expanded barns over time and now milk about 800 cows, pushing the current facilities to their limits.

A welcomed upgrade, a brand new double 24 parallel parlor, is in the works at Hammock Dairy and should be functional by this summer or fall. This new parlor will allow the Hammocks to grow to at least 1,200 cows over the next couple of years. They are utilizing sexed semen in their first calf heifers and are even starting to implement this practice in some mature cows to grow more quickly. They anticipate needing to build another dry cow facility and cow/ calf barn to handle the growth to 1,200 but they are excited at the growth. As Isaac said, "If you're not growing and pushing forward, you are falling behind in this industry."
The fluctuating market and supply chain issues have been the greatest challenges since 2020 that Isaac and his family have learned to manage. Input prices increase and the milk price doesn't always keep up, but that's a challenge dairy farmers have learned to plan for over the years. Labor is an ongoing concern, though Isaac feels blessed knowing they have a good team, which includes Isaac, his dad, two uncles, two cousins and his grandpa, as well as twelve to thirteen other full-time employees. The family members primarily handle the breeding, treating, feeding, crop management, and calf-rearing, while other employees handle the round-the-clock milking and bedding of stalls. Many crew members have become as close as family in the years they've worked for the Hammocks.
Adapting to new practices or technology can be easier said than done for some farm families, but since the Hammocks are relatively new to the dairy industry, they have never been afraid to try new things. The family recognizes that no other business that was around 50-60 years ago is doing things the same way today and still making money, and farms should be no exception. Isaac said, "We never want to be the first to adopt new technology, but we also don't want to be the last to give up the old technology." He noted there are two things that their farm prioritizes when it comes to adopting new technology or making large equipment purchases or upgrades: good quality forage for feed and cow comfort. The Hammocks only spend money on the farm if it increases or improves one or both of those things.
Isaac's family is in the process of finalizing the succession plan. Currently, the farm is a corporation that Isaac's dad and two uncles own, but in the next few years, shares of the farm will be transferred and sold to Isaac and his two cousins. He noted that the key to succession planning for their family has been to prioritize the family members who are involved in the farm.
The Hammocks have a great working relationship with Farm Credit. They value the patronage dividend and since it often equates to about one month's payment, they feel as though they're only having to make 11 payments in a year. "When you work with Farm Credit, you're working with an organization that works for farmers and understands what we're up against," said Isaac. They had to borrow to put in the new parlor, but they feel comfortable knowing that if anything comes up (such as equipment breaking down), they'll be taken care of and able to get money in a timely manner.
Ben Smith of cool lawn farms
Ben Smith is 31 years old and a fourth generation dairy farmer. He is a 2012 graduate of the Virginia Tech Agricultural Technology program, and he came back to his family's dairy, Cool Lawn Farms (CLF), to work full-time in 2013. There was no "aha moment" for Ben when he knew he wanted to be a farmer, but his dad (Ken) and Granddad (Charles) would joke with him growing up, saying things such as, "You better take care of that piece of equipment so it'll still run when it's yours," so you could say it was inevitable. Ben thought about other careers, such as professional snowboarder or hoof trimmer, but ultimately his heart and passion drew him back to the family farm. He enjoys the fact that you get out exactly what you put into the farm, and you see the direct results of your efforts.
Ben's great grandfather started the original Holstein dairy in Maryland, but Ben's grandfather moved his family and 120 cows to Bealeton, VA in 1970. The herd grew to 250 by the late 1990s, when Ben's dad bought the farm and took over as owner-operator. He grew it to the 830 head they have today, and was diligent in his efforts to improve the herd's genetics. The family is proud of their herd's 32,900 pound rolling herd average and the milk quality, with a somatic cell count level less than 175,000 cells/ml. In May of 2022, the Smiths went through the transition of the farm from Ken to Ben. Ben shared that while this process was years in the making, they "never had a plan until it was done." The family talked through several scenarios, from partnerships to purchasing shares to only purchasing part of the farm now and waiting to buy the rest in a few years. At the end of the day, Ben knew he wanted to own and operate the farm, and he wanted the opportunity to pay it off before he was ready to sell to the next generation. At 30 years old, it made sense for him to purchase the real estate, cows and equipment on a 20-year loan that will be paid off by the time he is 50 years old. Ben's advice to other families in a similar situation is to plan early and give yourself the time needed to get everything in order, and to try to transition in the winter when things are a little slower on the farm. Ben appreciates his relationship with Farm Credit and their mentorship throughout the loan process, as well as their understanding when farmers are faced with unexpected challenges. Ben also appreciates Farm Credit's dedication to supporting farmers and said, "If there is an industry meeting or organized event discussing the future of agriculture, Farm Credit is usually present so they can advocate for what is best for their customers."

In his new leadership role, Ben feels especially thankful to work with excellent and dedicated employees, many of whom have been working on the dairy for more than ten years. The herdsman, who has been with CLF for more than 20 years, has even built his own herd of 30 head into the family's herd. The Smith family takes pride in giving their employees a lot of autonomy in their roles, which empowers them to take ownership and excel. Since taking over the operation, Ben has had to learn how to inspire and motivate employees who have been working with him since he was a child.
It has been a fun challenge for Ben to begin putting some of his own dreams for the farm into place, including the brand new 50-stall rotary milking parlor that was installed in early April. The parlor took ten months to build, but it has been in the works for about ten years. The Smiths knew they needed to make a change to keep the farm viable and they had two options: cut back the number of cows and diversify the farm, or build new facilities, including a new parlor, and increase the number of cows. They decided to build a new parlor that would allow them to increase their capacity and cut milking time in half, though Ben would like to get another year or two under his belt as owner before any major expansions. A challenge the Smiths have faced since installing the new parlor has been the amount of power it needs to operate. The new parlor runs on three-phase power, but they currently only have access to single-phase power in their area, so they have had to utilize a generator to run the parlor. The Smiths are working with the power company to upgrade the power system but it is an ongoing battle.

Ben utilizes activity and rumination collars to track cow activity, heat cycles, rumination and more. He first saw this technology at World Dairy Expo while on a trip with VT's Dairy Club and thought it seemed unnecessary. However, after learning more about the collars, the Smiths decided to invest in the technology and now Ben says he couldn't imagine not having these incredibly useful tools. During a different trip with Dairy Club, this one to Europe, Ben first saw a methane digester and thought it was a great way to generate renewable energy using waste from the farm. When a company interested in installing a methane digester at CLF approached the Smiths, it was a no brainer to move forward – it's good for the environment and it creates a passive income source for the farm. The Smiths do not have enough cows at this point for the digester to run solely on cow manure, so when the digester is completed in a few months, food waste will be transported from the Northern Virginia and Richmond areas to the farm for conversion.
Sustainability is becoming more of a hot-button issue in agriculture, and Ben tries to embrace sustainability practices that meet the farm's short- and long-term goals. Maryland & Virginia Milk Producers Cooperative Association (the Smiths' milk co-op) and the Alliance for the Chesapeake Bay joined forces and asked Ben to allow a tree-planting event on the farm on Earth Day. Ben knew that planting trees would be great for the local area but he had to consider the long-term goals of the land and evaluate whether they would need to use that farmland for anything else in the future. Fortunately, the land in question was along a streambank where the Smiths had conducted a streambank mitigation project and fenced the cows out of the waterway two years prior, so it made sense to plant trees there. On Earth Day, a group of 150 volunteers came out to CLF to plant 850 trees. Projects such as this can be great opportunities for partnerships and can be beneficial to the farmer, but farmers must take the time to evaluate pros and cons before committing to something with lasting effects.
The future of CLF is bright and Ben is looking forward to marrying his fiancé, Dana, on the farm in September and starting their life together. Ben hopes to continue to grow the farm and be successful in that growth. The Smiths' family motto is, "If you're not growing, you're going backwards. Sitting still is not an option." However, since Ben is still new to ownership, he wants to be careful and deliberate in the farm's growth. In the short-term, he wants to maximize efficiency in the new parlor and enhance cow comfort before building any new barns or growing the herd. The 10-20 year plan is to become a 2,000-cow dairy.
Advice for Young & Beginning Farmers
Isaac and Ben offered some advice to other young farmers planning to return home to family operations: work somewhere else before coming back to the family farm (whether it's an internship or a job right out of school), have patience and stay the course. Isaac and Ben both value a strong network and support system – to vent, commiserate, share wins and discuss new ideas. They enjoy being able to bounce ideas off of each other, but they also look to those with more experience for advice. Isaac and Ben both completed internships with larger dairies in college and they have both stayed in contact with those families to discuss new technology, industry trends and best practices.
Isaac and Ben are both community-oriented and support agriculture in their local communities.
Isaac believes in promoting agriculture to the next generation, which is why he is involved with the Southside Dairy Association, an organization formed by three dairy families in Pittsylvania County that hosts an annual youth dairy show the third weekend of April. All local kids, ages 5-18, from any background are welcome to participate. Each farm is responsible for working with a group of kids – letting them pick out animals (typically heifers), teaching them showmanship and taking the heifers to the show. Isaac feels this is a worthwhile effort, as the program teaches responsibility, work ethic, caring for an animal and generates interest in agriculture.
Ben's grandfather instilled in Ben at a young age that it was important to be involved in the community and show people that you care. This is why Ben is on a number of local boards and committees, in addition to the Young Farmer Advisory Committee here at Farm Credit. Ben believes that it is important to make his voice heard within the community so that decisions that will have a lasting impact on him and his farm do not get made for him.
Back to Blog