Connect to and network with current and past Ag Biz Planner participants. 
The Networking Hub was created as a place to find like-minded farmers like yourself.  Learn about each other's operations and networking interests.  Reach out to one another to brainstorm ideas, ask questions, share stories, interests, challenges and successes! 
Want to include your farming operation?  Contact Sarah Scyphers at SScyphers@FCVirginias.com.
Get Connected!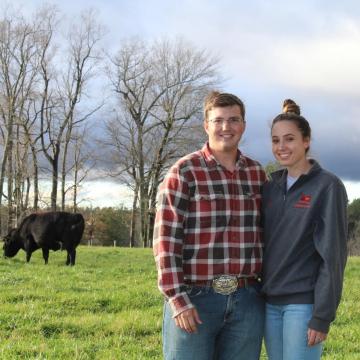 HANK Cattle, LLC
Hunter and Kristin Watkins
Kents Store, VA
Expand Bio
Hank Cattle, LLC is a Simmental seed stock operation located in the heart of Virginia in Louisa and Fluvanna counties. Owners, Hunter and Kristin Watkins, strive to constantly improve both cattle EPDs and phenotype to provide producers and consumers with a quality end product.
Hunter and Kristin both grew up very involved in the VA Junior Simmental Association, 4-H, and FFA programs. Hunter serves on the Louisa County Agricultural Fair Board and is a loan officer for Farm Credit of the Virginias. Kristin serves on the Louisa Farm Bureau Board of Directors and is an agricultural educator at Louisa County High School.
In his spare time, Hunter enjoys shooting his bow and cooking on the smoker. When not at work, Kristin can be found riding her quarter horse around the farm.
Commodities
We produce Simmental and SimAngus seedstock. Our main market is for yearling bulls and replacement heifers. We also sell round and square baled hay.
Networking Interests
We are most interested in networking about marketing and production relating to beef cattle production.
Contact Information
We prefer to be contacted by phone (Hunter: 540-894-7765), email (hankcattle@gmail.com), or Facebook (HANK Cattle).
Social Media
Facebook - Hank Cattle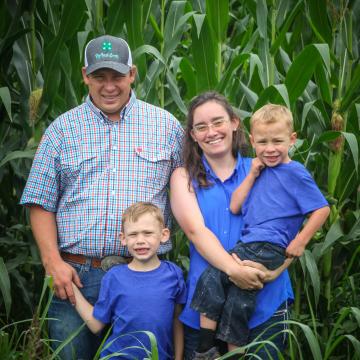 Church Hill Produce, LLC
Michael and Kari Sponaugle
Highland County, VA
Expand Bio
The couple, along with their two sons Jasper, age 6, and Clu, age 4, run Church Hill Produce in Doe Hill, VA.   Church Hill Produce has been in operation for 9 production seasons and have had a variety of crops raised. Currently, they focus on a wholesale market and are raising 11 different crops to sell on 50 acres in Highland County, VA. They also do a small amount of retail sales locally at the Farmer's Market in Highland County, which is where they got their start with their produce. Involved in the agriculture industry in a variety of other ways the couple wanted to how to manage their operation more efficiently, utilize their hired labor for maximum or production and to have a set of goals in mind and a plan to achieve them. The couple wanted to utilize the Ag Biz Planner program to think through they goals, refresh their memories on financial concepts and to develop a path for their future with Church Hill Produce.
Commodities
Fresh Vegetables
Networking Interests
Farm Management, Marketing Do's/Don'ts, Production Techniques/Ag Tech
Contact Information
Email – churchhillproduce@gmail.com   Home Phone – 540 396 3639
Social Media
Facebook - Churchill Produce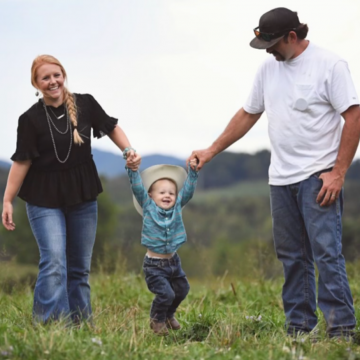 Beech Spring Livestock
Ryan and Kelsey Davidson
Meadowview, VA
Expand Bio
We are excited to welcome the husband and wife pair, Ryan and Kelsey Davidson to the 2020-2021 Ag Biz Planner Program.   Ryan, a first generation farmer, and Kelsey, fifth generation farmer, currently partner with Kelsey's father to run MJC Farms. The family operation primarily focuses on cow/calf pairs and selling calves at weaning.   They are starting their own cattle herd that focuses on Angus and ChiAngus genetics and plan on adding a sheep flock in the future. They are both active in the community through a variety of agriculture organizations and are working to network with other producers.  Through the Ag Biz Planner program Ryan and Kelsey want to develop a business plan that will help them put their goals and aspirations on paper for their own operation.
Commodities
Cow calf pairs.  We have recently added 2 Myotonic Fainting Goats to the family.
Networking Interests
We are most interested in seeing how other farms produce their livestock and what different techniques they use.
Contact Information
Phone Number (276) 698-7313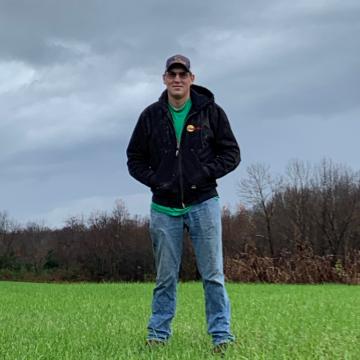 AJ Miller Farms
Alex Miller
Spotsylvania, VA
Expand Bio
Alex owns and operates AJ Miller Farms LLC in Spotsylvania, VA. As a generational farmer in the dairy industry Alex decided to venture out on his own after college to begin his own small grain operation. He found his passion for grain farming after his father left the dairy industry and began working on a crop farm. Alex worked alongside his father and decided to farm on his own when the time came. He currently farms about 1,000 acres of corn, wheat, soybeans and milo in several different counties and bales straw as well. On top of operating a small grain business he hauls and spreads poultry litter. Alex's main objective with the Ag Biz Planner program is to have a firm understanding of his expenses and income within each portion of his operation.
Commodities
Corn, Beans, Wheat, Milo
Networking Interests
Production
Contact Information
Phone: (540) 850-2922