Farm Credit Knowledge Center to Host Farm Management Institutes in March
The Farm Credit Knowledge Center, which serves as the educational arm of Farm Credit of the Virginias, will host its annual Farm Management Institutes at Misty Mountain Farm in Fisher, WV on March 29, 2022 and at Renback Barn in Rochelle, VA on March 30, 2022. The events will run from 9:30 AM to 2:30 PM.
The 2022 Farm Management Institutes are free offerings from the Farm Credit Knowledge Center in which participants will hear from Dr. David Kohl, Professor Emeritus of Virginia Tech, and Scott Sink, owner of Hethwood Market and SES Enterprises, Blacksburg, VA.
Participants will have the opportunity to interact with Dr. Kohl as he discusses the domestic and global economic outlook and business planning. Participants will also engage with Scott Sink as they discuss shared wins and road blocks while navigating the ownership of an agricultural operation.
Kyley Clevenger, Farm Credit Knowledge Center Director, shared, "We are excited to host our annual Farm Management Institutes in two locations this year. These events are a great opportunity for agriculturalists to gain valuable insight from industry experts and to network with others in the ag community."
Registration can be made by visiting https://farmcreditofvirginias.com/knowledge-center/events or by emailing the Knowledge Center at knowledgecenter@fcvirginias.com.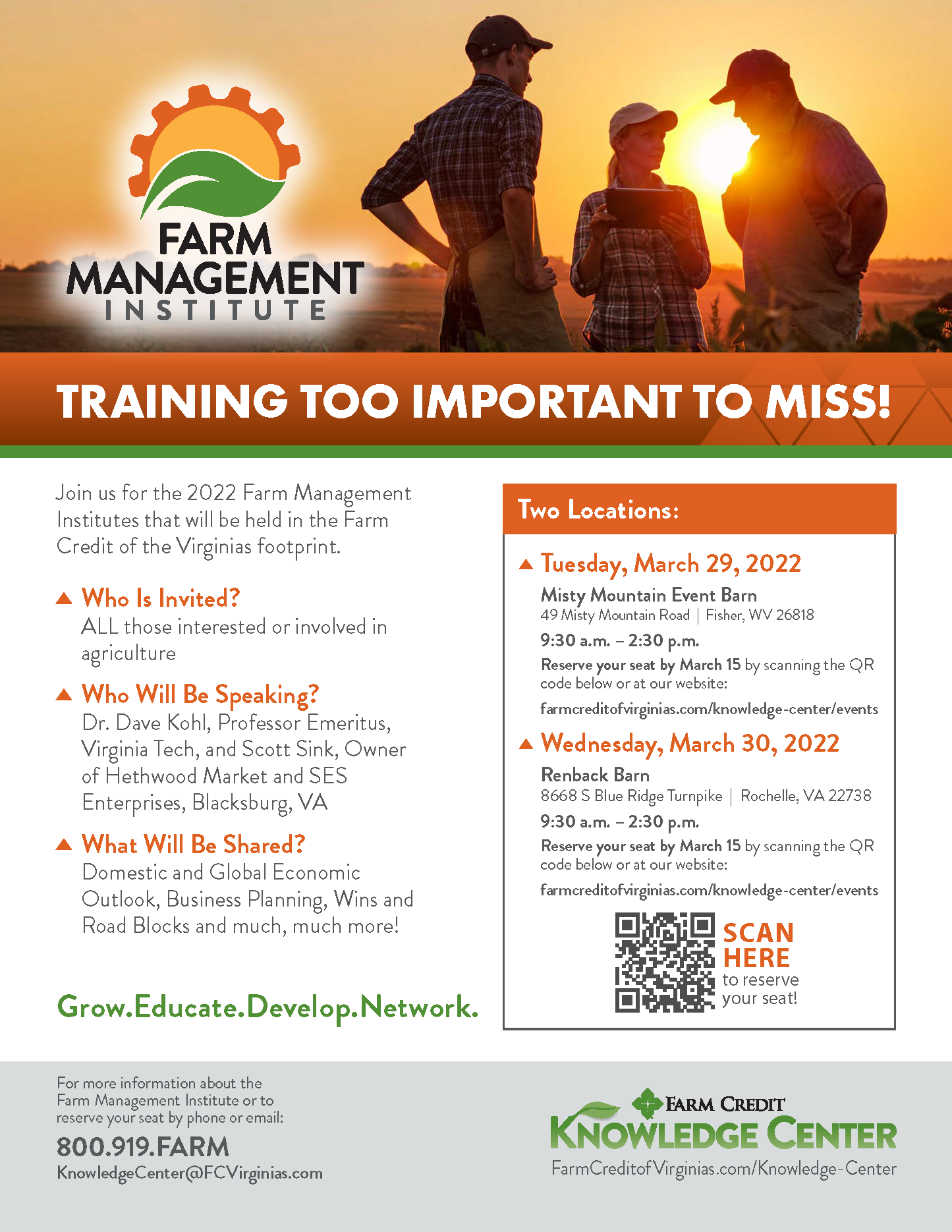 About Farm Credit of the Virginias
Farm Credit of the Virginias provides over $2 billion in financing to more than 11,000 farmers, agribusinesses and rural homeowners throughout Virginia, West Virginia and western Maryland. Farm Credit is a cooperative capitalized largely through investments made by farmers, ranchers and the rural homeowners and businesses that borrow from them. In fact, as part of a nationwide network they are the largest single provider of agricultural credit in the United States and have been for over 100 years. Farm Credit helps maintain and improve the quality of life in rural America and on the farm through its constant commitment to competitive lending, expert financial services and for facilitating and sharing knowledge and resources through the Farm Credit Knowledge Center. For more information, visit www.FarmCreditofVirginias.com.
Back To News