Crop Insurance Overview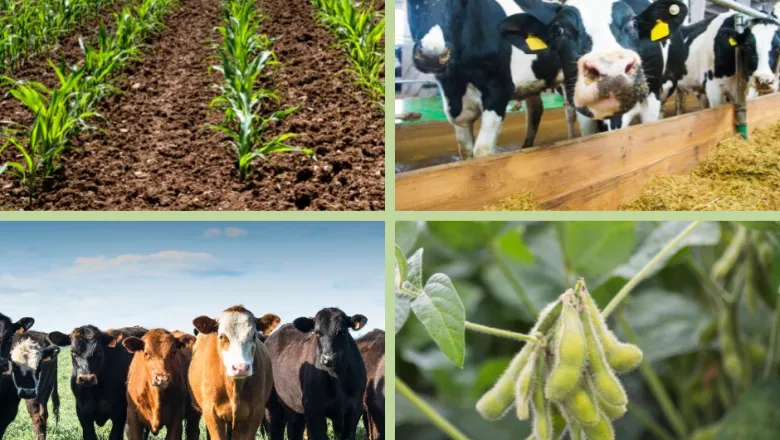 Farm Management Resources
Crop insurance is a tool farmers can use to mitigate risk.
Farmers have noted crop insurance as their most important agriculture risk management tool. A licensed agent can provide additional information and assist you with insurance appropriate for your agricultural operation. Use this guide to learn more about insurance available to the agricultural sector.
Quick Facts
Virginia - Covers 1.2 million acres and provides $670.2 million in protection.
West Virginia - Covers 53,989 acres and provides $25.8 million in protection.
Maryland - Covers 835,085 acres and provides $414.5 million in protection.
Nationwide - In 2021, more than 460 million acres of farmland were protected through the Federal Crop Insurance Program (FCIP).
What is Crop Insurance?
Crop-Hail- Crop-Hail policies are provided directly to farmers by private insurers. These policies are not part of the (FCIP).
Protect high-yielding crops from hail damage.
Can be purchased at any time during the growing season.
Multiple Peril Crop Insurance (MPCI)- MPCI covers loss from all types of natural causes.
Must be purchased prior to planting
There are currently 15 private companies authorized to write MPCI policies under this FCIP authorized by the USDA Risk Management Agency.
The federal government also subsidizes the farmer-paid premiums to reduce the cost to farmers.
12 reasons why it is a valuable ag business tool:
(source: cropinsuranceinamerica.org)
Farmers receive individualized risk management solutions
Farmers can use it as collateral for loans
Farmers are involved in, and take responsibility for, risk management choices
Farmers can use it to improve their pre-harvest marketing plans
Farmers receive indemnities in the timeliest way
Farmers do not receive unnecessarily excessive payments
Farmer indemnities are not capped by arbitrary payment limits
Farmers share in the program cost
Farmers benefit from the efficiencies and service of the private sector delivery system
Is comprehensive and program features can be adjusted quickly
Has already contributed to deficit reduction
Has flexibility to help meet world trade organization disciplines
Buying a livestock insurance policy is one agriculture risk management option. Producers should always carefully consider how a policy will work in conjunction with their other risk management strategies to insure the best possible outcome. (rma.usda.gov)
A licensed agent can provide additional information and assist you with farming insurance appropriate for your agricultural operation.
Livestock Risk Protection (LRP)
Feeder Cattle (LRP-Feeder Cattle)
Designed to insure against declining market prices.
Choose from a variety of coverage levels and insurance periods.
Available for purchase throughout the year from Risk Management Agency (RMA) approved livestock insurance agents.
Premium rates, coverage prices, and actual ending values are posted online daily.
Choose coverage prices ranging from 70 to 100 percent of the expected value.
At the end of the insurance period, you get paid an indemnity for the difference between the coverage price and actual ending value.
Dairy Revenue Protection (Dairy-RP)
Designed to insure against unexpected declines in the quarterly revenue from milk sales relative to a guaranteed coverage level.
The expected revenue is based on futures prices for milk and dairy commodities, and the amount of covered milk production elected by the dairy producer.
Dairy-RP offers two Revenue pricing options:

The Class Pricing Option
The Component Pricing Option

Coverage is established by adding quarterly coverage endorsements to the policy.
Livestock Gross Margin
Livestock Gross Margin Cattle (LGM-Cattle)
Provides protection against loss of gross margin (market value of livestock minus feed costs).
The indemnity at the end of the 11-month insurance period is the difference, if positive, between the gross margin guarantee and the actual gross margin.
LGM-Cattle insurance policy uses futures prices to determine the expected gross margin and the actual gross margin.
Prices are based on the Chicago Mercantile Exchange Group and are not based on market prices.
LGM-Cattle does not insure against cattle death, unexpected increases in feed use or anticipated feed cost increases.
You can sign up for LGM-Cattle each week and insure all of the production that you expect to market over a rolling 11-month insurance period.
Livestock Gross Margin Dairy (LGM-Dairy):
The Livestock Gross Margin Insurance Plan for dairy cattle provides protection when feed costs rise or milk prices drop and can be tailored to any size farm.
Gross margin is the market value of milk minus feed costs.
LGM-Dairy uses futures prices for corn, soybean meal, and milk to determine the expected gross margin and the actual gross margin.
There is no minimum or maximum number of hundredweights you can insure.
Prices for LGM-Dairy are based on simple averages of Chicago Mercantile Exchange Group futures contract daily settlement prices, and are not based on the prices you receive at the market.
Download the Crop Insurance Resource Guide 
Learn more about Farm Credit Crop Insurance
Visit www.rma.usda.gov for additional information. Use the Agent Locator feature to search for an insurance agent and provider information.
Information has been sourced from: cropinsuranceinamerica.org
USDA/RMA is an equal opportunity provider and employer.
Important Notice and Disclaimer
These materials are provided for educational and informational purposes only and do not constitute legal advice, financial advice, tax advice, or investment advice on any matter. These materials may not be current and up-to-date. You should not act or refrain from acting based on these materials or the information they contain without seeking legal advice from an attorney licensed in your jurisdiction or other appropriate professional. Farm Credit of the Virginias, ACA expressly disclaims any liability for all acts and omissions taken or made in reliance on these materials or any information contained in these materials.
Back to Blog