Livestock Project Thank You Letter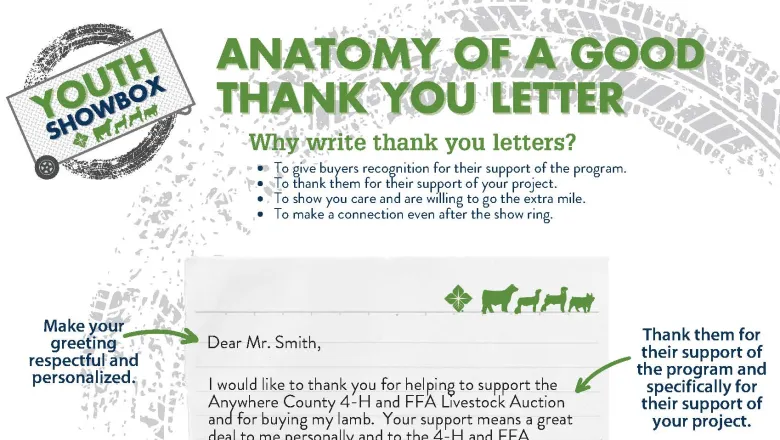 Livestock Project Thank You Letter (for 4-H and FFA Livestock Show and Sales)
We are right in the middle of fair season in our area, which means that for many 4-H and FFA students, Livestock Show and Sales are just around the corner.  Long days taking care of livestock projects and fine tuning so that the animals looks just right for the show and then sale will soon be over...but there will still be a little bit of work left to do.
Earlier this year, we shared an 
Anatomy of a Good Buyers Letter 
video and infographic to help 4-H and FFA students write a good buyers letter for potential buyers.  We're following that up this week with an Anatomy of a Good Thank You.  Thank you letters don't take long to write, and they do not have to be long, but they are oh so important.  Buyers, and people in general, appreciate when you take time to show your appreciation for their support.  A thank you letter is a simple way to do that...and a good thank you letter have a few important parts.
First - pick out nice stationary or a nice notecard...and then HAND WRITE your thank you.  Poor handwriting or not, a handwritten thank you letter is the way to go.  That being said, be sure to use your best handwriting, and read over (or have a parent read over) the letter to make sure that everything is spelled correctly.  If it's not?  Re-write the letter...it is definitely worth the extra time and stationary.
Be sure to personalize the letter to your buyer, and thank them for supporting the program and you.  Share a little bit about yourself and what their support will help you do...and then close by thanking them once again and signing your first and last name.
Find the infographic here
.
Depending on your country, club or chapter rules, you may be required to turn in the letter to be mailed.  If you're not, you have the option of mailing the thank you (be sure to hand address the envelope as well and include a return address) or hand delivering it. 
Visit our Youth Showbox and find multiple livestock show and sale resources
Want to do a little bit extra?  You could always give a thank you gift as well!  It could be as simple as a framed picture of you and your animal, or it could be a plaque, gift basket, or something else!  If you choose to do this, you can have the thank you gift ready to give out the night of the sale (but you will still need to write a thank you letter) or you can hand deliver the gift with your thank you.
Whatever you decide, showing your thanks for your buyers support will help to keep them coming back!  (And it's a good habit to get into for all occasions when someone gives you something).  Good luck with your show and sales!!c 
Back to Blog