Approximately 1.5 million children under the age of 20 live, work, or have a regular presence on farms in the United States (CDC.gov). We realize the importance of keeping those youth safe in their agricultural settings. Utilize resources to develop practices for on-the-farm safety.
This portal offers 
Educational videos covering youth farm safety
Informational charts listing:

Age characteristics
Key farm dangers
Appropriate rules
Supervision suggestions

ATV Safety
Access to multiple relevant resources
This portal provides a mix of resources providing education and support focusing on the safety of youth involved in the agriculture industry.  This portal is appropriate for anyone interested in learning more about the topic.
Educational Videos
Listen to Dr. Amy Johnson as she speaks on the topic of farm safety for kids.  Dr. Johnson covers common farm injuries, how to prevent them, and resources to use.
Listen to Brian Sparks with West Virginia Extension Service as he discusses the Top 5 Farm Hazards and What to do Instead and an overview of Keeping Youth Safe on the Farm.
Download the infographic! Scroll down to the Educator Tools section for student activities that accompany the infographic.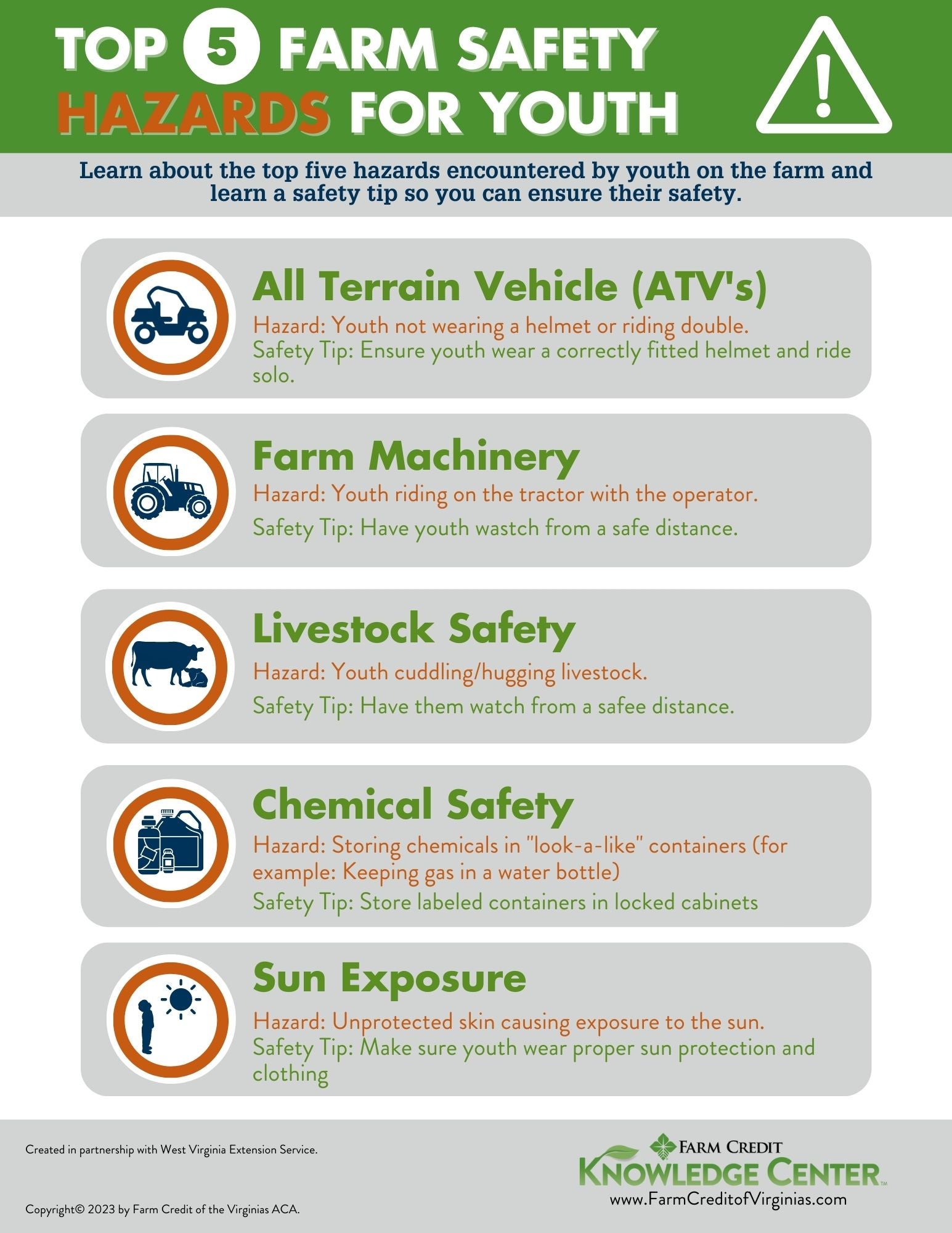 Educator Tools - Farm Safety Activities for Youth

Further Reading

ATV Safety

Additional Resources
Continue your learning journey...
Questions?  A Knowledge Center team member is ready to assist you!
Important Notice and Disclaimer
These materials are provided for educational and informational purposes only and do not constitute legal advice, financial advice, tax advice, or investment advice on any matter. These materials may not be current and up-to-date. You should not act or refrain from acting based on these materials or the information they contain without seeking legal advice from an attorney licensed in your jurisdiction or other appropriate professional. Farm Credit of the Virginias, ACA expressly disclaims any liability for all acts and omissions taken or made in reliance on these materials or any information contained in these materials.